Up Close … with Olympic qualifier boxer Andrique Allisop-'Always listen to your coach'
15-May-2012
He stood at the top of the stairs rather awkwardly, as though not quite sure whether he
should be here or not. I thought he was rather shy for an Olympic boxer.
My opinion however made a complete turnabout as Andrique blew me away with his mannerisms.
He was neither shy nor afraid to express his true dedication to the sport and his passion for always striving for the best.
I wanted to know how such a young man from a small island had found his way into the ranks of Olympians.
How it all started
"I was around 13 or 14 years old when my interest for boxing came about. In fact, from an even early age I've always wanted to get involved in a fighting sport like karate, kickboxing and anything related to martial arts really – I guess it's because my dad was in karate.
"Eventually though, a friend of mine who was already into boxing introduced me to the sport and I've been hooked ever since.
He leaned back into the sofa cushions.
"I remember my first ever competition," he said, looking at the ceiling as if trying to remember the details of that day.
"It was at the Anse Aux Pins community centre and the guy's name – my opponent – was Richie. I won too," he said, a smile playing at the corner of his mouth.
I eventually got round to asking him about his training schedules.
"On a typical training day I usually get up at around 6.30am to get ready for the hard work which starts at around 7.30am where I train until around 9am. This includes lots of long distance running, punch bags and speed improvement," he said.
Andrique said he then relaxes for the rest of the day before taking up more training at around 3pm.
"This can go on until 5.30pm after which I am completely exhausted. I used to train only at night when it's cooler, but since the Indian Ocean Island Games I've upped it up a notch and even more so now that I've qualified for the Olympics," he said smiling. "Training started last night by the way."
Andrique said his diet on a typical day is composed mostly of regular food that everybody else eats.
"Just before a competition however, I'll reduce the amount of carbs – stuff like rice – I take in to ensure a lower weight for a better performance."
On motivation
"Sometimes I wake up and think – not again," said Andrique laughing. "You get those days of extreme laziness that creeps up on you – but the thing is, I want to go further with my sport so I end up talking to myself going 'C'mon Andrique, get up, get moving' and by the time I've hit the gym, all my energy comes flooding back and I'm alive and kicking again."
On qualifying for the Olympics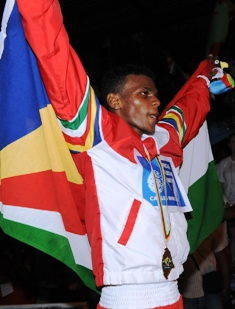 A low chortle ensued as I asked Andrique how it felt to have fought his way to the Olympic Games.
"Honestly, I was ecstatic. It's what I had been training for in fact and every single day I'd remind myself and tell my mother and sister 'This is what I want to do, this is where I want to go' and the training prior to that has been intense. A few times I've sustained injuries, fallen down and almost lost hope but I persevered because I knew where I wanted to go and finally – here I am, representing Seychelles in the Olympic Games," he said beaming.
Inspiration
"I have to say my biggest inspiration is my coach Rival Payet (formerly Cadeau). He's always been the one to push me that much further. I used to watch his videos and tell myself that I would be just like him one day," he smiled.
"I remember him teasing me and saying 'I don't think so kiddo' – but now, even he admits that he's proud of what I've accomplished and I'm ever so grateful to him for that."
"My advice to anybody wanting to follow my footsteps would be first and foremost to have discipline," he began.
"No matter what, always listen to your coach – if he says run till you drop, then that's what you do; and always maintain that respect – if you're angry, don't show it. It will get you far," he laughed.
"In everything you do though, stay motivated and determined to reach your destination."
Young male athlete of the year 2010, Andrique claimed one of his most memorable wins at last year's Indian Ocean Island Games on home soil when he beat Mauritian Bruno Julie, Olympic bronze medallist at the 2008 Olympic Games in Beijing, China.