'More Indian ships to patrol our waters'
16-May-2012
A total of 14 Indian and naval and survey ships have come here during the last two years and the next one arrives next month to take part in our National Day celebrations, and will stay in our waters for three weeks with Seychelles Coast Guard personnel on board.
This was said by Commander Amanpreet Singh, who has been a maritime security adviser for the Seychelles People's Defence Forces since 2010.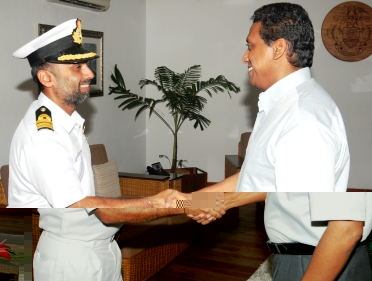 He was speaking after paying a farewell call on Vice-President Danny Faure yesterday at State House.
Mr Singh has been advising on maritime security, training of Seychellois soldiers and on anti-piracy efforts.
He told Nation although there are other advisers, he was mainly responsible for these aspects as well as "helping with the setting up of the Seychelles Coast Guard headquarters on Ile Perseverance and making it operational".
Mr Singh leaves Seychelles on Friday, and will be replaced by Commander Negi Prashant, who arrives today for the handing over.
"The post of a maritime security adviser from the Indian Navy is now a permanent one," said Mr Singh, who noted cooperation between the two countries are "at a very high level".
Mr Faure thanked India for its contribution and Mr Singh for the role he has been playing.