President Michel visits Korea's eco-capital city
16-May-2012
The President received a traditional Korean welcome from the Mayor in this city, which is famed for the world's 5th largest wetlands and reed fields of Suncheon Bay, as well as a strict land development policy in favour of protecting the natural beauty of the bay and its surrounding area.
"We have had the opportunity to explore avenues of cooperation between Suncheon and Seychelles, in our common effort to develop ourselves as the eco-capitals of our respective regions. We could develop this through a twinning programme, as well as technical and cultural exchanges," said President Michel.
Mayor Choong-Hoon congratulated Seychelles on its environmental conservation successes and the excellent tourism reputation it has in the world.
Mr Choong-Hoon said he hoped that more Suncheon residents would visit Seychelles and discover its beauty in person, and invited Seychellois to visit his city for the Suncheon Garden Expo 2013.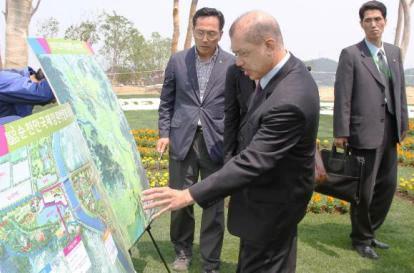 Following the meeting with the Mayor, President Michel toured the site of the Suncheon Garden Expo 2013, which will feature the world's most beautiful gardens as well as eco-friendly technologies such as solar energy, sustainable garden development and electronic transportation.
The President was also invited to view ancient Korean gardens surrounding the Buddhist monastery of Sunam Temple, which are found the vicinity of Suncheon city.
"Korea has a special history of nature conservation that is linked to its cultural heritage. In places like Songgwang, it is possible to see the careful preservation of Korean cultural treasures like the Buddhist temples, while at the same time special attention is given to the natural treasures, such as the ancient trees and rare flowers. It is really a very beautiful and inspiring concept," said President Michel.
President Michel was in Korea to attend the opening ceremony of Yeosu Expo 2012, where Seychelles is also represented.
Held under the theme 'The Living Ocean and Coast', the expo is focusing on the role of the oceans and coasts as a source of life and a regulator of the ecosystem.
It was officially opened on May 12 and will run for three months through August 12.