Ministry stepping up control of public funds
17-May-2012
Its minister, Pierre Laporte, said this yesterday after visiting various sections which fall under his portfolio, namely the 26-staff-strong Treasury, the 11-personnel Internal Audit, the National Tender Board and the Import Export units.
The use of centralised payment by ministries through the treasury rather than by departments having aside accounts with commercial banks, for example, is helping cut inappropriate use of money, but Mr Laporte regretted there is still fraud which in some cases involves conflict of interest which needs to be eliminated.
He said there are too many government entities to be audited by the few internal audit staff, who are bogged down by investigations of irregularities they find, preventing them from auditing more firms.
Mr Laporte said inappropriate spending occurs for example when an organisation is headed by a chairperson with common business interests with its auditor.
"Strict action needs to be taken," he said, adding that more staff – possibly foreigners when there are not enough Seychellois – need to be recruited to ensure saving of public funds by more thorough and wider checks.
"I plan to set up a special unit in the audit department so we will have the normal audit while the unit focuses on suspected fraud," said Mr Laporte, who said money involved could be significant but he was not in a position to give exact figures partly because of legal implications.
He said the loss of funds comes from poor control, actual taking of money and corruption where contracts are given out to family members and friends without following proper channels.
The minister said he is visiting the sections as part of his familiarisation effort and in line with President James Michel's call for leaders to be in closer contact with the people they work with and for.
Besides inadequacy of staff, lack of office space was one of other problems he witnessed, which he said causes the government to spend a lot of money on rent.
Mr Laporte was accompanied by the principal secretary in the ministry Steve Fanny, special adviser Ronald Cafrine, the director general for policy and investment Rupert Simeon and personal assistant to the minister Kevin Samson.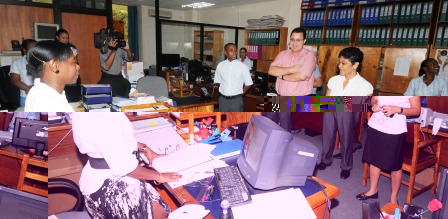 Chief accountant Gretel Quatre took the delegation around treasury where she is in charge.
She told the media her section is based at the Central Bank of Seychelles to ease payment so payees do not have to collect cheques at Liberty House then walk to the CBS building for payment.
The treasury processes payment for over 100 organisations, and hopes to automate the system so fewer ministries take data by pen-drive.
She said payees tend to see their money as delayed when ministries or departments say they have in paid suppliers when they submit details to treasury before the later has had time to process the payment.
Chief internal auditor Joan Valmont guided the delegation around her section which is based on the fifth floor of the Le Chantier building.
Ms Valmont said her unit hopes to be affiliated with an international body soon, and to send its staff who are mainly accountants for training as auditor.
She talked of parastatal organisations which are reluctant to let auditors in, but noted her staff are empowered by law to do so.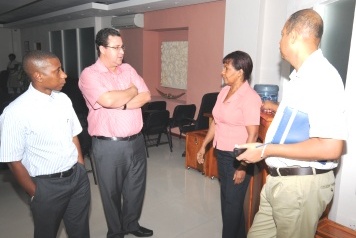 Chief executive Mina Crea received and escorted the group through the National Tender Board while Marie-Nella Nancy welcomed them at the Import and Export unit she heads.