New locally produced children's programme on SBC channel
19-May-2012
The SBC says the half-hour programme which will be broadcast daily from 8.30am has been prepared in collaboration with the Ministry of Education and presentation is done by a group of teachers from crèches across the country.
Shirley Choppy, chief executive of the newly formed Early Childhood Care and Education Centre, said she is pleased to note that the innovative and successful Aprann Lir Avek Papiyon (Alap) reading programme has moved to the next level and stressed that television programmes have great educational values as well as help enhance language and social skills among young children.
SBC's head of programme Patrick Hoareau said the idea behind the new children's programme came about after the broadcasting corporation realised it had not targeted that specific audience group.
"We decided to ask the Ministry of Education whether they would be interested to partner with us on such a project," he said, adding that after the discussions the job was split into two with the SBC focussing primarily on the format of the programme and the Ministry of Education working on the content.
"We think the most important thing is that the programme contains educational materials and will be seen as a class in itself," said Mr Hoareau.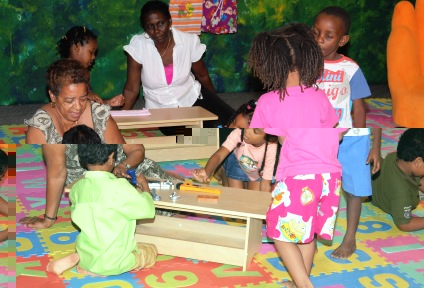 SBC's head of programming Maryse Legaie explained that after the early morning Bonzour Sesel broadcast and leading up to 8.30am, the SBC will air some specially selected educational programmes to complement what the children are being taught at school and in the locally produced Zarden Zanfan programme.
The SBC says all crèches in state and private schools have received a TV set to watch the programme and its managing director Antoine Onezime has added that the "new initiative is part of SBC's strategy to develop and produce content with a purpose, content that depicts 'Nou Dimoun Dan Nou Labita' or 'Our People in Our Habitat'.
Zarden Zanfan, which will be re-broadcast at 4.30pm from Monday to Friday, is sponsored by Dr V. Ramados.