Photographers' association re-launched
19-May-2012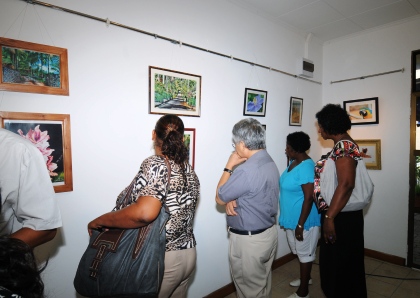 The ceremony took place recently at the Carrefour des Arts in the presence of Vice-President Danny Faure and Ambassador Bernard Shamlaye as well as culture principal secretary Benjamine Rose.
National Arts Council's (Nac) chief executive Jimmy Savy, the association's chairperson Dominic Elizabeth as well as some photographers were also there.
Mr Savy said the launch marks the revival of the once dormant photographers' association which was initially formed in the mid-1990s.
He said Mizopwen, now approximately 15 years since its official birth, is headed by a group of much younger and perhaps more dynamic photographers with interests ranging from wedding portraits and landscape photography to digitally cropped abstract images and high dynamic range ones.
He said the Nac will continue to support the photographers' courageous work and help them put on shows.
Mr Savy added that photographers are often forgotten and many of us use their pictures without acknowledgement.
"Original photographs need to be seen, photographers need exposure, and therefore the rights to protect their work must be enforced," said Mr Savy.
He also asked all photographers to seek help from the copyright section of the culture department to make the first step in securing intellectual property rights on their work as a first step.
Mr Elizabeth said Mizopwen was originally launched in 1996 but has been dormant since 2007.
He added that in February this year, a group of photographers who were willing to join the association met for a first meeting. An election was held for a new committee which comprises Dominic Elizabeth as chairperson, Naulan Charles as vice-chairperson, Petra Aimable as secretary, Chantal Préa as treasurer, and Marsha Dine, Steve Nibourette and Nicholas Shamlaye as ordinary members.
After the launch, guests viewed the photographs of members of the association on display.
Photos taken by more than 10 photographers feature in the exhibition which will remain open until May 31. The photos, which focus mainly on landscapes, are also for sale.
J. L.