New, eco-friendly cleaning service now available
21-May-2012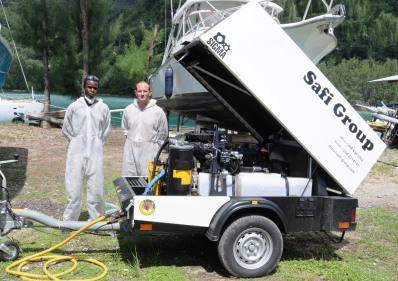 The Safi Group Ltd company is now offering this new method of cleaning, where they use compressed air and bicarbonate soda (baking powder) to strip away and leave exposed surfaces for its next stage of usage.
A Seychelles Nation team visited the company on Friday morning, where a demonstration of the new cleaning product was being held at the Cascade slipway.
A 30-ft boat's hull was being stripped down for re-painting by Chris Cooper, who explained that a variety of innovative technology was about to be used.
"We have a brand-new 10-bar compressor, with the latest available engine, which uses less energy but gives more air for the fuel used and also produces cool air, unlike most other compressors.
The compressor comes with a built-in generator so we can continue working at night with all the lighting we need, big blast box in the back of my truck and a spare, smaller one for the mobile jobs, to name a few," he said.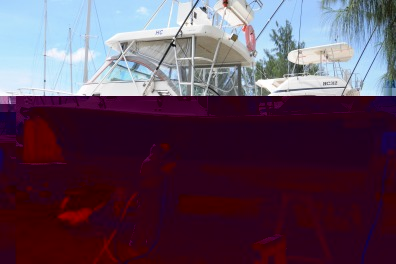 "The product is non-abrasive, so it cannot damage surfaces, and in the case of the boat hull here, will remove the anti-foul and prepare it to be painted immediately without having to sand or grind it in any way."
He added that the product is also sterile, which will prevent one of the popular problems when doing hull repairs, which is getting bacteria underneath the paint, which causes paint jobs to blister and damage the surface of the boat.
"With our method, the client does not have to worry about any of these happening, and our product is Ph neutral, has no effect on the environment and has been endorsed by the local departments of health and environment," he said.
"It is more expensive than cleaning it by hand, but the end product is one which the client will see is a lot better than they would have got from the traditional way of doing it."

The cleaning process is also a quick one, where a 30ft boat hull can be stripped and made ready for repainting in only a couple of hours.
Mr Cooper said they can also clean and sterilise public toilets, greasy workshop floors, swimming pools, large barbecue grills, wooden decking on boats to remove stuff like mould, chewing gum, paint and varnish.
"If there has been an engine or building fire, we can clean it and remove all the discoloration and deodorises everything. When something – like a building for example – has had a fire in it, people tend to replace everything because of the burnt smell. With our product, we remove the odours as well."
The Safi Group is fully mobile and is ready to go where the customer is. However, it will soon have a base where clients can drop off whatever they need cleaning and can pick it up later.
While the company charges R1700 per hour for their services, it says the speed at which they can blast-clean any surface makes any client able to save a lot of money.
"For cleaning boats, for example, one can save on dry docking fees and have their boat back in the water in practically a day or two, and stripping a car down to its metal body can be done in less than a day, while a garage will require the car for at least a month," he said.
The company can be reached on phone numbers 2514147 and 4361002.
I.H.