Campaign launched to spread happiness
23-May-2012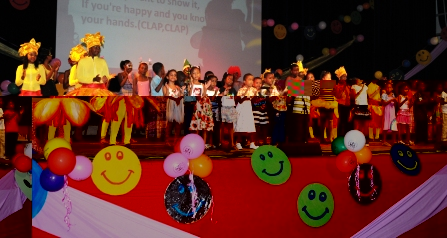 Present at the event held at the International Conference Centre were Vice-President Danny Faure, school children around the country and their teachers, among other guests.
During the ceremony, NCC named three goodwill ambassadors – Bishop French Chang-Him, a long-time board member of the NCC who has contributed enormously to the cause of children; Andrew Gee, who has always been available to give NCC the beautiful decors for its shows; and David Deltel for promoting NCC campaigns through his songs and this includes the recent popular signature song Hello Bonjour which was a hit for the campaign of the same title.
They received a token of appreciation which was presented by Vice-President Faure.
At the start of the ceremony Mr Faure was invited to light the Happiness Candle in the middle of the stage aimed at brightening the morning to make all those present and Seychelles happy.
The conference, the first of its kind, is an initiative of the NCC and its partners and has been organised to coincide with the launch of the Child Protection Week under the theme Be Happy - Make Seychelles Happy.
Its aim is to educate the public on the importance of creating a happy environment for children to grow in.
People invited to take part in the conference included a wide range of stakeholders from government ministries, agencies and other professionals working with children from all sectors of society.
During the ceremony David Deltel launched a new song entitled Happy to support the campaign. He was accompanied by a group of school children of all ages and also the Miss Seychelles contestants who will also help promote the campaign through the Ministry of Tourism and Culture.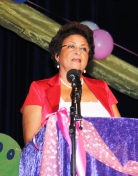 Mrs Mondon addressing guests at the launch of the event
Addressing those present at the event, the chairperson of the NCC, Minister Macsuzy Mondon, said
throughout history men have through various studies sought to pursue and capture the essence of happiness and constantly tried to unlock its mysteries and in men's attempt to define the concept of happiness, a lot has been written about it.
"But what is the evolutionary basis for happiness? Is it a process or an emotional destination? Are there different types of happiness? Does happiness differ across cultures? Can happiness be extended to others? " asked Mrs Mondon.
She said many questions have been asked and there are many theories but the debate on the issue continues and research is being carried out in different academic circles around the world.
She said the conference will allow those taking part to understand happiness better by offering a wealth of wellbeing material, tools and techniques to lead a happier life.
But what makes us in Seychelles happy?
Mrs Mondon noted that a group of 100 people from all walks of life were interviewed and what came out strongly was: a stable family, supportive friends, a safe environment, being loved and respected, healthy children with caring parents.
She further added that these were similar to the findings of a recent research on families in Seychelles which also confirmed that stable families and a good network of reliable friends are positive contributors to one's happiness.
"It is clear that how we perceive our lives and what we make of current situations has everything to do with our happiness and sense of fulfillment," said Mrs Mondon.
"One can manage one's emotion to be always happy but I know for sure that unless one is happy it is extremely difficult to make others happy," she said.
NCC's communication manager Jean Claude Matombe said at the end of the conference it is expected that those taking part will enroll in various workshops led by the different speakers.
Meanwhile NCC expects to maintain the momentum of the campaign by working with various ministries such as Tourism and Culture, Health, to promote happiness which he said is also one of the 12 living values which NCC is promoting through its ongoing Living Values Programme.