Council addresses key economic issues-● SCCI asks for Vat to be delayed
25-May-2012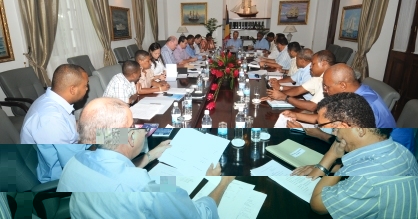 The council addressed concerns of the Seychelles Chamber of Commerce and Industry (SCCI) with regard to key economic issues such as the proposed introduction of the Value Added Tax (Vat) system, the rate of inflation, the liquidity situation as well as the state of the tourism industry and unavailability of economic data.
Members were briefed on the actions being taken by government and the Central Bank of Seychelles on the issues raised and welcomed the role of the council in enabling productive debate and finding common approaches to face the challenges ahead.
The council also discussed the state of bilateral air service agreements in relation to the tourism and commercial sectors.
It emphasised the need to maximise revenue generation and collection and to prioritise government expenditure in the best national interest.
The Minister for Finance, Trade and Investment Pierre Laporte said members of the council brainstormed on the main policies that the government and the private sector can use to address the economic challenges the country is facing today.
He named the challenges as "the rising inflation which is now at 7% and the exchange rate where the US dollar is selling at more than R14".
"In the meeting we discussed what kind of policies we can come up with and in the next three weeks we will propose certain policies to the government as temporary tightening (measures) to try and help ease some of these challenges," said Mr Laporte.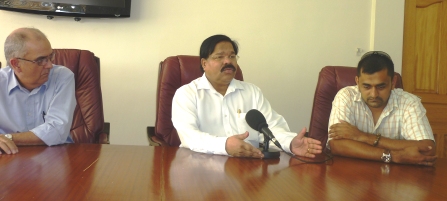 SCCI chairman Dr V. Ramadoss said the chamber is urging the government to delay introduction of the Value Added Tax (Vat) scheduled to replace the Goods and Services Tax in July.
"We are against introduction of Vat in July because the business community is not ready," Dr Ramadoss told reporters in an interview after the meeting.
He was accompanied by other SCCI members Conrad Benoiton and Brijesh Jivan who also said they are now awaiting the government to indicate – after consultations with the International Monetary Fund – whether or not introduction of Vat will be delayed.
"We had very fruitful discussions where we also brought up the issue of inflation where we urged the government to take measures to bring the rate of inflation down," said Dr Ramadoss, adding the government needs to listen to the private sector "because it is the private sector which brings money to the government".
"We should continue with GST until the economy stabilises," he said.
Mr Benoiton said the government has said it is not at this time ready to announce its position on the Vat issue as it continues to pursue an evaluation process.
He noted the issue of foreign exchange "which is affecting all commodities and businesses across the board" also came up strongly at the meeting.
Mr Jivan said the chamber earlier had a meeting with the Ministry of Finance, Trade and Investment and members said how Vat would affect businesses, "including by the very nature of its complexity".
The economic council is due to meet again on June 21.