Minister Alexander on familiarisation visit at IOT
26-May-2012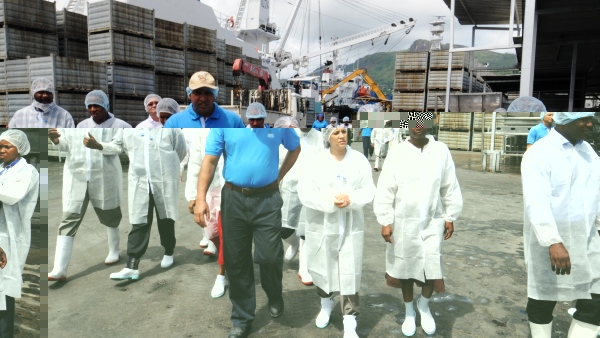 The delegation was made up of senior officials from her ministry and from the Ministry of Finance, Trade and Investment, as well as from the Seychelles International Business Authority.
At the start of the visit, IOT's general manager Joe Madnack gave them a presentation about the cannery's operations.
Ms Alexander and her delegation made a complete tour of the different units of the factory and interacted with some of the Seychellois workers who were on duty, and discussed issues that are affecting them.
Some of the main comments and challenges of the workers were to do with general conditions, whereas management commented on the challenges of low job performance and high absenteeism.
In her interview with the media Ms Alexander said her ministry has received some complaints with regards to the factory management and the visit enabled her to better understand and discuss the issues.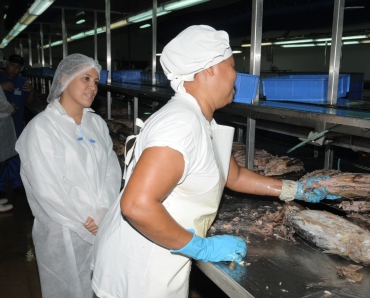 "I have met with the general manager and his team to be enlightened on the IOT issues and also discussed 'the way forward'…. The visit does not end just today, we will continue to work with IOT and follow up based on our discussions," said Minister Alexander.
The Indian Ocean Tuna factory is currently on a quota of 1402 (63.78%) non-Seychellois to 796 (36.21%) Seychellois workers employed at the factory.
"We will also work closely with IOT to come up with strategies on how to attract more local workers, for example salary revision, infrastructure improvement, flexible working hours which is already in the plan of IOT, as per my discussions with the GM," she said.
Ms Alexander said that even if the IOT is a Seychelles International Trade Zone-operated industry, when it comes to labour and employment issues of our local force, we all need to work collectively with all concerns on good incentives for our local workers.
The IOT will also work closely with Public Employment Agency to recruit 125 local workers to work in the productivity line at the factory.
At the minister's demand, IOT management committed itself to re-look at the cases of recent terminations due to different factors, which have occurred at the factory.