Michele Miglionico to grace tonight's Miss Seychelles pageant
26-May-2012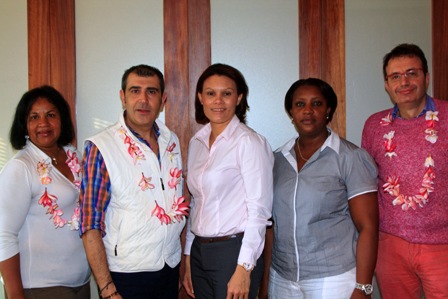 The 11 young ladies will hit the catwalk tonight at the idyllic Le Méridien Barbarons in the event which is to be attended dby dignitaries of Seychelles and high international officials.
An extremely talented Italian designer, Miglionico is one of Miss Seychelles...another world 2012's top sponsors.
He will be flying all the way from Rome with 12 of his exclusive creations of haute couture. The dresses will be worn by the Miss Seychelles...another world 2012 contestants for a catwalk show during the prize-giving ceremony that will take place on May 30 at the resplendent traditional plantation house of La Plaine St Andre.
Mr Miglionico's haute couture fashion house, reputed for its bespoke fashion, will also be sponsoring the crowned beauty queen's wardrobe for the forthcoming Miss World contest.
The STB, which re-launched the beauty pageant after some years of absence from the islands' events calendar, and Seychelles tourism ambassador Dorothy Furneau, who greatly promoted and sought support for the event in Italy – her country of residence – are honoured to have Mr Miglionico supporting the crowned Miss Seychelles...another world beauty queen, who will represent the country at many local and international events as well as important ceremonies and activities.
During his stay here, Mr Miglionico will have further discussions with other government officials on future cooperation and help towards the less fortunate children of Seychelles.
Mr Miglionico has already been providing the Seychelles islands his support through his fashion shows and photo shoots, using them as a link between fashion and social responsibility. One such example is Seychellois Veronique Francourt's involvement in Mr Miglionico's promotional tour in Italy. Ms Francourt was representing the JJ Spirit Foundation created by President James Michel with the aim of motivating and helping young people in various disciplines including culture, artistary and fashion.