Productivity public speaking competition-Advanced level school excels
28-May-2012
The activity was organised by the Ministry of Labour and Human Resource Development under the theme: "Prodwir plis pour plis rannman."
More than five teams took part in the competition which formed part of activities to mark Productivity Awareness Week held from May 14-18.
The finals, which saw the participation of only five teams, was held last Thursday at the National Theatre Mont Fleuri, in the presence of Education Minister Macsuzy Mondon and the Minister for Labour and Human Resource Development Idith Alexander.
Also there was Veronique Bresson, principal secretary for Labour and Human Resource Development.
There were also senior officers from the productivity section of the employment department.
Besides coming out first, Sals – which fielded two teams – also grabbed second place.
The winning group was made up of Estelle Montano (chairperson), Farah Esparon (main speaker) and proposer of the vote of thanks, Nissa Bonte.
The Sals team which came out second consisted of Christelle Hoareau as chairperson, Helvin Alcindor (main speaker) and Vanessa Azemia (proposer of the vote of thanks).
The Sals teams: winners of first (above) and second prizes
In third place was the School of Business Studies and Accounting. Grishella Ladouceur was the chairperson, Petra Tamatave the main speaker and Damelza Philoe the proposer of the vote of thanks.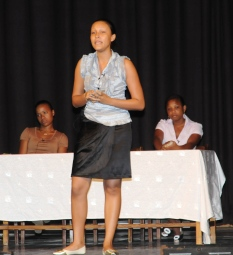 The other schools which also took part in the finals were Plaisance secondary which came out in the fourth position and Seychelles Institute of Technology which came out fifth.
The best chairperson went to Estelle Montano from Sals, best main speaker Farah Esparon from the same team and the best proposer of vote of thanks was Damelza Philoe from the School of Business Studies and Accounting.
In their presentations, the students put a lot of emphasis on the importance of work for a country.
They also stressed the need for better performance and for staff to stop wasting their time on facebook and petty phone calls.
There were also tips on how employers can motivate their employees, for example through words of encouragement, bonuses, increments and other activities to make the work place more attractive and interesting. The role and responsibilities of staff were also in focus.
The students also encouraged the youths to go out there and work instead of doing illegal activities to get quick money.
Our photos show the winning teams giving their presentations. They will receive their prizes today in a ceremony at the Seychelles Institute of Management at Ma Joie.