Social protection agency steps up efficiency checks
30-May-2012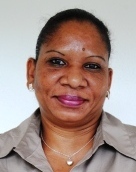 The ASP's PRO Betty Mondon (left) and its home care manager Ms Souris
The agency's public relations officer (PRO) Betty Mondon told Nation yesterday that home carers who are paid through vehicles in their work districts, for example, will now not only bring along their own identity cards, but also the card numbers or full names of the old people they are working for.
"This way we hope to promote the relationship between the carer and the service recipient enough, for the latter to trust the carer with her card and to boost the workers' attendance," she said, adding the carers need to be punctual and offer good service.
"Once the rest of the carers have been paid in the districts, some cannot then turn up at the agency's room number 10 in town the very next day or any day they feel like afterwards to collect their money, since we will have gone all the way to them in the district to give it to them," she said.
"They will now have to let five days pass before they can line up to collect their dues at the main office," she said, adding that would also allow the agency's officials time to make the necessary preparations.
She said the envelopes bearing the money for those who get their pay from the districts have the necessary details on the envelopes, "but home carers who are paid through banks will now have to collect pay slips from room 10 within three weeks after payment is made otherwise their names will be removed from the payroll.
Mrs Mondon said this is a way of increasing contact with the home carers and to ensure they are bona fide employees.
"We are also pushing monitoring to a more advanced stage. There will be more frequent surprise visits to houses where carers work to ensure they are giving the service they have signed up for and that in turn they too are comfortable in their posts and are treated well by the service recipients," she said.
She also introduced Marie-France Souris, the new home care manager, whom she said will help step up the monitoring.
Ms Souris was previously working as a senior investigation officer with the agency.