Study gauges carrying capacity of Cerf Island
31-May-2012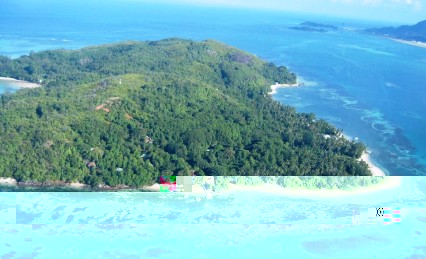 This is the first time that such a comprehensive carrying capacity assessment is conducted on any of the islands in Seychelles, especially Cerf, which is located in a marine park environment.
A carrying capacity study is a tool to guarantee that overall development in a specific area or in this particular case, on an island, is kept at a sustainable level.
The ecosystem of the island was scrutinised in relation to its ability to withstand all impacts such as physical, ecological, social and economical, of additional land development activities for residential and tourism purposes.
Two consultants – Marquise David and Iris Richter – led the study and presented their findings in a workshop held on Tuesday at the Seychelles Trading Company's conference room.

The one-day workshop was a collaboration of the United Nations Development programme's Global Environment Fund, Ministry of Land Use and Housing, the Seychelles Tourism Board, Planning Authority, and department of environment.
Present was the Minister for Land Use and Housing Christian Lionnet, who officially opened the workshop, and other high-ranking government officials and a number of guests from various sectors.
Addressing the guests, Minister Lionnet said the government places strong emphasis on the promotion of sustainable development and therefore insists on the elaboration of such carrying capacity studies.
"Studying the carrying capacity of our main Islands starting with Cerf Island as a pilot project will serve to provide us with practical experiences, and allow the testing of the methodology on a relatively small island," he said.
"Cerf Island is a good test case, given that development on the island has increased rapidly over the past years and tourism and residential use exist side by side," he said.
Mrs David – tourism and economic consultant – presented her findings on the island's tourism and economy capacity, while Mrs Richter – environment and land use consultant – spoke about her findings on Cerf's environmental, physical and social carrying capacity.
Discussions were then held on all aspects of economic and tourism development, basic infrastructure and utilities, topography and land use, environment protection and bio-diversity, socio-cultural aspects and issues related to the marine park environment.
Minister Lionnet said La Digue is the next island to have a carrying capacity study done, then Praslin and eventually Mahe.