Seychelles Tourism Academy Graduation-Frederika Confait and Pierre Savy clinch President's Cup
01-June-2012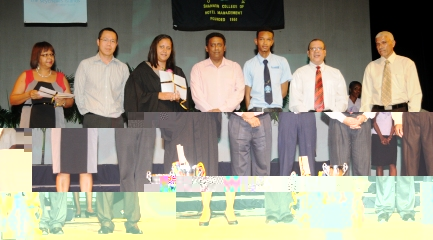 Frederika won the President's Cup as the overall best student in the advanced diploma in hospitality management course while Pierre was judged as the academy's overall best student.

Frederika also won the best business and finance subjects award.
Pierre, who is currently working at L'Archipel Hotel, Praslin, also won the best academic, best practical and best overall awards in his course.
They were presented with their awards by Vice-President Danny Faure, while the academy's principal Flavien Joubert and sponsors gave them other prizes.
Guests at the event included ministers, leader of government business in the National Assembly Marie-Antoinette Rose and leader of the Opposition David Pierre, principal secretaries, Seychelles Tourism Board chief executive Elsia Grandcourt, several high government officials and director of the Shannon College of Hotel Management in Ireland, Philip Smyth.
Others included members of the diplomatic corps, parents of the graduates and staff of the academy.
During the ceremony, which took place at the International Conference Centre, other graduates also received awards and prizes for their outstanding performances in the courses they were following.