President congratulates outstanding A-level graduates
01-June-2012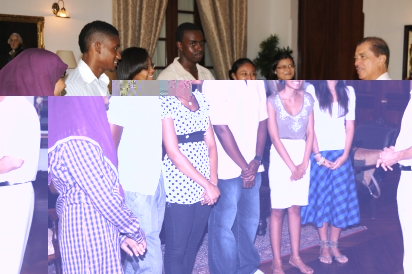 Gulmetta Bootna, Lana Woodcock, Larry Leste, Nusrath Farook, Ron Roucou, and Anisa Chang-Lai-Seng achieved straight A and A* results in their A-level exams last year and are expected to start their university studies in September in a wide range of fields including medicine, civil engineering, chemical engineering, law, mathematics and management.
President Michel congratulated the students on their outstanding achievement and wished them all the best in their future studies.
"The future is the youth and you will build the future with the skills and knowledge that you acquire in the coming years. Your studies and development are important to the nation, and we look forward to the completion of your university studies when you will be welcomed home to contribute to the country," said President Michel during the meeting.
The President noted that the students had all chosen subject areas of study that are needed by the country for its development.
"There are many opportunities in Seychelles today for you to take up when you return. We need doctors, engineers, and managers of high calibre, and you will have many chances to develop in your field of work."
The students spoke to the President about their aspirations for the future and expressed the wish to return to Seychelles to work hard for their country.
Speaking to the press soon after meeting Mr Michel one of the students, Lana Woodcock, said it has been a privilege and honour for them to be received and congratulated personally by the President and they were all very happy and appreciate the gesture.
"The meeting was a great opportunity to discuss various issues relating to education with the President and it is a good initiative from him," she said.
Another student, Larry Leste, also welcomed the chance to meet Mr Michel.
"It was a great opportunity for us and we discuss several issues relating to our education with the President," he said.
Larry's message to all students who are preparing to sit important exams at the end of this year is, "take your studies seriously, education in Seychelles is free so make the most of it and everything is possible in life if you work hard to achieve it".