China gives Seychelles medicine and equipment
01-June-2012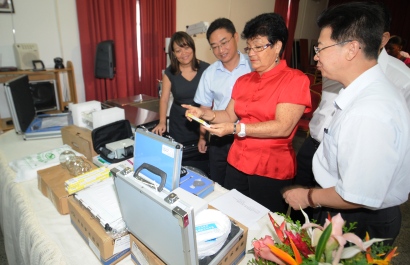 The principal secretary for health Veronique Laporte received the donation in the presence of Health Minister Mitcy Larue and members of a visiting Chinese delegation led by Wang Liji, who is the deputy director general in the department of international cooperation of China's ministry of health.
Mr Shi and Mrs Larue first signed a memorandum of understanding (MoU) for the donation which comprised items for use during nerve surgery and in the treatment of the heart, as well as for limbs, along with wheel chairs.
The items were identified by Chinese doctors working here, of whom there are six at the moment.
Mr Shi said his country is keen to support Seychelles maintain its population "as healthy as the country's beautiful environment" through the excellent cooperation between the two countries.
Ms Laporte welcomed the donation saying the items will be put to good use, and thanked the Chinese government for the gift.
She said the items would well fit in areas identified by the doctors as they had first hand knowledge of what was needed when they recommended that the items be included in the donation.
Mr Wang's delegation came to Seychelles to meet Chinese doctors working here and to hold talks with senior officials from the ministry on the issues of cooperation between the two sides.
"The donation is meant to complement the wonderful work that the group of Chinese medical experts are doing at the Seychelles Hospital and is based on their recommendations on what is required to further improve their work," the ministry said in a statement.