Silhouette takes steps towards greener future
04-June-2012
This comes after a tree-planting activity on Friday morning on the island where children, teachers, parents, Island Development Company (IDC), Hilton Labriz Hotel and Island Conservation Society (ICS) staff planted new trees as part of the government's initiative to introduce 20,000 new trees to the country by the end of the year.
Attending the activity was Silhouette's manager Gilbert Esparon, IDC's public relations manager Thelma Pool, general manager of Hilton Hotel Labriz, ICS representative Philip de Comarmond who presented the first plant to Gervando Azemia, a pupil of Silhouette school.
"It has always been my plan to make Silhouette an island full of nature beauty and serenity; an island we can be proud of but most importantly, an island that is environmentally friendly," said Mr Esparon extending his invitation for children of the island to follow the same example and adults to be role models in keeping Silhouette green.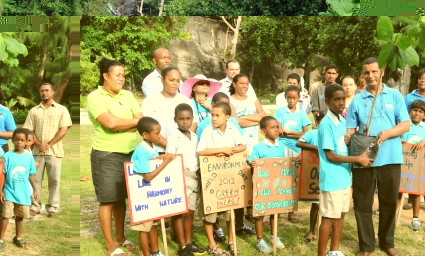 He also said that the end product of the tree-planting activity is part of IDC's mission and vision to protect and conserve all islands under their responsibility.
After the tree-planting activity, children, teachers and parents headed to the Gran Kaz for Children's Day celebrations.