Beacon lighting marks Queen's 60-year reign
06-June-2012
The event, which also included a music concert, was held at the Berjaya Beau Vallon Bay hotel on Monday night and attended by a sizeable crowd, among whom were cabinet ministers and members of the diplomatic corps.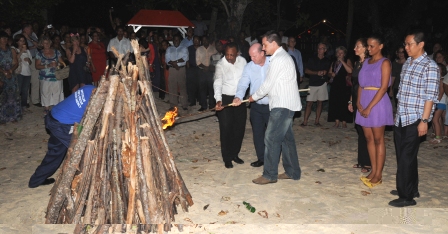 The Minister for Investment, Natural Resources and Industry Peter Sinon joined the Minister for Tourism and Culture Alain St Ange and British high commissioner Matthew Forbes in lighting a beacon on the beach.
Four thousand other beacons were also being lit around the world.
In a short address, Mr Forbes thanked all those who had turned up for the event, before reading out the Queen's message, which had words of thanks to all those who had played a part in honouring her.
A big concert was also taking place outside Buckingham Palace at around the same time that the one is Seychelles was kicking off.
Among those who performed here were local singer Joe Samy and Nicki Murray from London.
Minister St Ange said Seychelles has a long relationship with Britain and remains one of its very friendly past colonies.
Mr Forbes then formally presented Mr St Ange with the Queen's message.
Joe Samy and Nicki Murray then took over the stage, to the delight of the sizeable crowd, who enthusiastically welcomed each piece performed.