Karting: Seypearl Championship Round 4 roundups-Viljoen, Salome, Mellon, Gabriel, Delcy and Rene the winners
08-June-2012
In SF6, South African David Viljoen took his first victory after playing patient to leader Michael Padayachy who was put under pressure on the last lap and spun, letting David, Keval Shakida and Joshua Samsoodin through to the podium.
Michael recovered to take fourth place with Anil Gonthier, another who was inside the top three who spun on the final laps, taking fifth while Jayden Pothin came out sixth.
Michael still leads the table followed by Shakida, Gonthier, Viljoen, Samsoodin, Anil Padayachy, Greg Olivia and Pothin.
In SF5, Rodney Salome dominated, taking the win with ease, with close challengers Arnold Mein taking second and Ryan Marianne third.
Ryan at one stage led the final but nearly spun and lost it and could not recover.
Michael Gedeon took fourth and Amadave Camille fifth.
Both Salome and Marianne lead the table on 70 points each with Arnold third.
In SFL, Debra Mellon was again unchallenged for the win, with Mitra Labrosse second and Bernardette Mein third. In their race returnee, Velma Esparon was involved in a spectacular crash after the first bend, but was uninjured though her kart was too badly damaged to continue. The table in the class remains unchanged with Debra well ahead.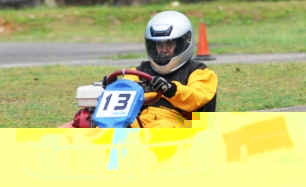 In SF4, Andrew Gabriel, who did not contest the previous events final, took victory. However it was Rennick Bonnelamme who was the surprise package of the day, taking a fine second, which could have been his first win too had it not been for a few slip-ups in the latter part of the race.
Debra Mellon took third, whist Yannick Gabriel followed her in fourth place, with Dane Decormarmond fifth, Montel Kurz sixth, Christian Portlouis seventh.
Montel still heads the class, with Chan second and Andrew third.
In SF3, Roland Delcy got the better of his brother Marc, by winning the final. In a tight event Marc held off table leader Peter Fred, while fourth place Dane Decormarmond had to fend off Damien Bonnelamme, with Marvin Sophie sixth and Redman Bonnelamme seventh. Peter leads the table with Marc second and Dane third.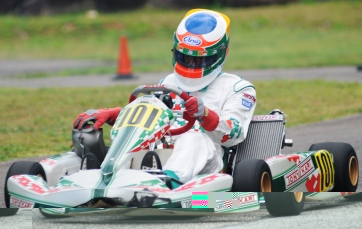 In SF1, David Rene took another win from Stephan Simon with John Simon third. In the heats David nearly had a crash after running off the track lapping a SF3 competitor. John Simon settled for third after encountering ignition problems at the start of the race. The table for this class remains unchanged with David leading from Stephan.