Cascade pupils now have better place to recover from sickness
08-June-2012
This follows the hand-over on Childrens Day of a well equipped and renovated sick bay by the Seychelles Civil Aviation Authority (SCAA).
It took SCAA staff three weeks to repaint the room, improve the flooring by laying tiles and upgrading the security and comfort of the room, adjoining the administration office.
It now has two beds, a television and a First Aid kit.
Among those attending was the Cascade MNA Charles de Commarmond, district administrator Fred Barrat and chairman of the Parent-Teachers Association, Antoine Onezime.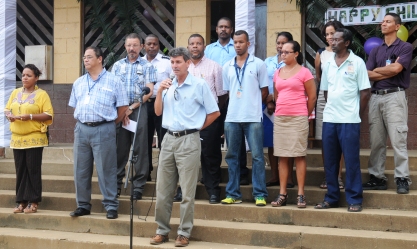 Mr Faure addressing the gathering at the hand-over ceremony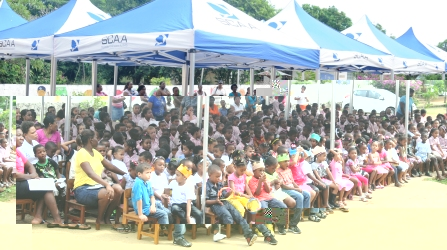 The SCAA chief executive Gilbert Faure said he prefers that the sick bay be called a "recuperation centre".
He said the SCAA's corporate social committee which assesses social needs had decided to commit its efforts to helping Cascade school.
Noting that the SCAA has some 600 employees which run the Seychelles International Airport, he urged the students to consider a career with the organisation as weather forecasters, traffic controllers, telecom operators, firemen, among others.
The acting head teacher, Jane Laurette, said the centre is a place for children to rest while awaiting medical attention if necessary.
She urged parents nevertheless not to send sick children to school on purpose, but take them to a doctor.
As part of Children's Day activities at the school, pupils staged a parade of various professions.
Separate choirs of pupils and teachers also sang such songs as Every child is special and Mon enfant.