AU team promotes merits of anti-corruption pact
08-June-2012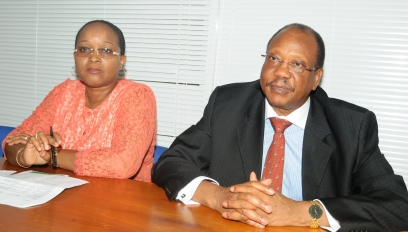 The mission was headed by the chairman of the AU Advisory Board, Dr Edward Hoseah, who is also the head of the anti-corruption agency in Tanzania who has been at the forefront of news after some ministers were recently investigated there.
He was accompanied by Henriette Diof Tall of Senegal.
The mission, who has met the Minister for Foreign Affairs Jean-Paul Adam, representatives of the Ethics Commission, civil society, the Seychelles Chamber of Commerce and Industry (SCCI) and was due to meet members of the National Assembly, is here to sensitise government on the objectives of the convention.
Only 21 African countries out of 52 have ratified the convention, Seychelles being among those who have not done so to date.
Dr Hoseah said this compares with 42 African countries who have ratified the UN Anti-Corruption Agency.
Dr Hoseah said among its objectives, the convention seeks to secure implementation of strategies aimed at discouraging corruption.
He said the media and civil society have an important role to sensitise and pressure government officials against corrupt practices.
"In Africa, corruption is estimated to total $148 billion yearly. That's the scope of the challenge," he said.
He said that during talks with Minister Adam, he was informed that all reasonable measures would be taken within the framework of the 2008 macro-economic reform programme to stem out corruption where and if it exists.
He was told one of the measures was the setting up of the Financial Intelligence Unit (FIU) to investigate cases of fraud and funds earned by illegal means.
Dr Hoseah noted that in Tanzania, six senior ministers were recently fired for suspected malpractices.
"You cannot fight corruption unless you deal with the big fish," he said, noting that if you wish to clean house, one has to start at the top of the staircase, as otherwise it would be counter-productive.
Dr Hoseah said corruption is at the root of all ills in Africa. "It is an obstacle to peace, to freedom, to environmental protection and to quality of life."
He noted Africa is rich in minerals and other resources, but its development has so far been held back, largely by corruption.
The main mandate of the AU advisory board is to promote and encourage the adoption of measures and actions by state parties to prevent, detect, punish and eradicate corruption and related offences in Africa.
"Let us own and nurture our own baby and make a difference," he said.