'All tourism earnings should be repatriated,' says SCCI
11-June-2012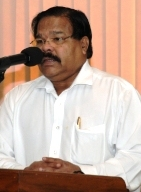 Dr Ramadoss addressing the meeting on Friday
Dr Ramadoss was speaking during the body's annual general meeting held on Friday at the Seychelles Trading Company's conference hall.
According to Dr Ramadoss, the purported R2.5 billion in total tourism earnings is not the real figure.
He said that divided by 194,000 visitors last year, that gives barely R12,000 – less than $1,000 -- spending per visitor.
"That is because the money is not coming here, but is being kept outside by some hoteliers," he said.
The SCCI is insisting that all tourism earnings, even those paid abroad, be repatriated and go through the local banking circuit to ensure there is enough foreign currency for commerce , farming and other sectors.
Dr Ramadoss said the issue has been raised at the National Economic Council (NEC) -- of which he is a member -- where he has also voiced concerns about the implementation of the Value Added Tax (Vat), supposed to come into effect in July.
"We are not ready to accept Vat and the SCCI is insisting that government removes it. This can be achieved," he said.
Earlier, the Minister for Tourism and Culture, Alain St Ange, who was invited to address the AGM, said tourism is everyone's business.
He said that three years ago, in March 2009, when he was appointed as director of Marketing for the Seychelles Tourism Board (STB), there were only 150,541 visitor arrivals , with limited weekly frequencies linking Seychelles to the world and not a single event with international recognition.
He said tourism earnings stood at R2 billion with GST collected from tourism being R372 million.
Mr St Ange said that two years later, Seychelles received 194,476 visitors, while flights linking the islands to the world have improved tremendously.
He said tourism earnings were worth R2.5 billion in 2010, while GST collected from tourism increased to R378 million.
In the meantime, Seychelles hosted three of the biggest events our country has ever seen. These were the Carnaval International de Victoria in 2011 and 2012 and last year's Indian Ocean Games.
Mr St Ange said bed occupancy moved from 44% in 2006 to 54% in 2010 and an estimated forecast of 57% in 2011.
Seychelles has also entered new tourism markets and opened tourism offices in China, Pretoria and Abu Dhabi, with double digit growth in the emerging markets.
J.L.