Up-Close with Jacqueline Moustache-Belle, currently Mayor of Victoria-'Journalism and broadcasting is my labour of love'
12-June-2012
In our interview with her last week, she said she has such a passion for journalism and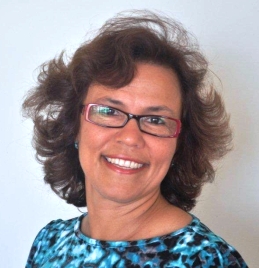 broadcasting that ten years from now, if asked where she sees herself, she will still be involved within this field in one way or other.
Jacqueline, who always seems to wear a smile, epitomises the "Seychellois bon vivant" and adores dancing, travelling and socialising.
Yet, as an infant, she had a miraculous escape. That was when as a nine-month-old she was in a camion to see grandparents at Anse Boileau on New Year's Day, 1962. The driver clearly had one drink too many on that day; at Anse à la Mouche, the camion ended up in the sea. One man died on impact, another died on the way to the hospital. Jacqueline's mother, Myriam, was the third most seriously injured passenger.
Meanwhile, Jacqueline could not be found; one of her shoes was spotted floating away. She was being partly hidden from view under the capsized vehicle. It was a cousin who spotted her other red shoe which was visible in the murky waters. She was pulled out by some men and her father, André. Within seconds she started bleeding by the mouth, nose, ears and eyes. Initially, many thought she was dead. But, at Victoria Hospital, Dr Maxime Ferrari and some nurses refused to give up. She was in a coma for 21 days. At one point a report reached her father -- carpenter by trade -- that Jacqueline had died. He promptly made a coffin!
After regaining consciousness, Jacqueline was slowly recuperating when at 18 months, she was hit by pneumonia. Again it was feared that she would die, but again pulled though.
Jacqueline grew up at Mont Buxton, fifth in a family of nine – all girls except one. She was very much a daddy's girl, spending considerable time with him in his carpentry cabinet joiner workshop where she often tried her hand at measuring, polishing and even cutting timber. Today, she can assess woodwork and craftsmanship with a critical eye.
Loving the outdoors and socialising, she joined the Girl Guides and Coeurs Vaillants and went camping to various places on Mahé. After finishing St Clare's school, Jacqueline went on to Teacher Training College (TTC). While at the institution, she made the most of the camping trips which took her to La Digue, Praslin and other inner Islands. She was very much inspired by the teacher and organiser of the trips, Patrick Pillay, who later became a government minister and is today ambassador in the UK.
However, after the TTC, she opted not to join the teaching profession but instead went on to join Barclays Bank as a clerk. A couple of years later, she decided to leave for the UK "to see the world".
She returned in 1982 and was recruited by Radio Seychelles as a junior producer in the Production Section. I got acquainted with her then for I was a member of the Radio News staff, under Ibrahim Afif.
I remember she once gave me her script for a radio programme on Farquhar Island, where she had just been on a day trip, by plane. The programme was a vivid account of life on an outer island, besides extolling the virgin beauty of Farquhar. I added a few comments but what struck me most was that it demonstrated her eagerness to strive for perfection and was never shy of seeking a second opinion.
"It is the end product that counts," she said.
It was not too hard for her turning up at the Radio Station at Union Vale at 6.30am to start her day, as her husband Eddy Belle, then coordinator of the St Anne National Youth Service (NYS) village, had to take the boat also in the early morning.
Jacqueline recalls producing the Sunday programme "Allo les Îles" destined for listeners on the outer islands and which included requests for special songs from loved ones on Mahe or Praslin.
A few years later, she had to leave to accompany Eddy, then a chemist, when he left for further advanced studies in Texas, USA, as a petroleum geologist. She requested but was not granted a government sponsorship to fund her own studies while in US. However, being a fighter and survivor, she managed on her own to get enrolled for courses in public speaking and politics at the University.
Always a keen traveller, Jacqueline also availed of the opportunity to visit several states on the western US seaboard, including California, New Mexico, Utah, Arizona and also Louisiana. She also crossed over to Canada and Mexico.
On her return home, Jacqueline wanted to learn video production and joined the TV division of SBC. A popular fortnightly programme she produced was "Consonants and Vowels", which was similar to a scrabble game; it also included an environment slot for which she was assisted by Joe Faure, while Ralph Lablache de Charmoy provided technical assistance.
In fact she casually added that the first environment video documentary on SBC to win an international prize was the production of the trio – Nirmal Jivan Shah, as the environment specialist, Ralph and herself. They won the third prize in an URTNA (Union of National Radio & TV Stations of Africa) competition, with a documentary entitled Men and Birds on Cousin Island.
In 1989, she joined the Ministry of Foreign Affairs as chief of protocol. Her "baptême de feu" was organising two State visits, which overlapped, within six months of her joining the ministry.
The visiting dignitaries were Mauritian Prime Minister Anerood Jugnauth, and the Indian President, Ramaswamy Venkataraman.
Another notable visit was that of French President Francois Mitterand in June 1990, who arrived here on the supersonic jet, Concorde, from Djibouti on an Indian Ocean tour.
Jacqueline went to welcome him. One of the protocol officers of the French side, apparently used to huge crowds greeting their delegation on arrival in African countries, looked up and said: "Mais il n'y a personne" ( I can't see anybody there). Indeed, there was then no guard of honour. The welcoming party comprised President Albert Rene and his ministers besides a contingent of Young Pioneers.
Jacqueline's diplomatic career was interrupted in 1993 by brief stints. For the first Indian Ocean Island Games, she was asked to head the Games protocol committee. Following the Games she joined the tourism ministry at the newly-completed International Conference Centre (ICCS) where she was responsible for staff recruitment, marketing of the venue – in short the operational manager to run the new venue.
She was 'borrowed' temporarily by the Ministry of Foreign Affairs for a couple of months in 2007 to take over the responsibility of organising a state visit of what was to be one of the biggest delegations ever -- that of Hu Jintao, the President of China.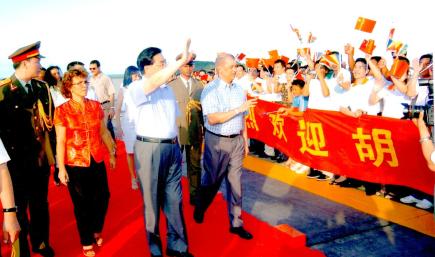 Her next move was to the National Audiovisual Centre (NAVC) at the Ministry of Education where she was once more back into the realm of radio and television.
Jacqueline was called back to SBC in 2002 as manager of marketing and public relations and in 2008, she was asked to take over the management of both radio services, the AM and FM. In 2005 the former managing director, Ibrahim Afif, assigned her with the task of a programme he had initiated -- Face à Face – probably the most avidly followed programme of that genre.
"I had to produce the programme over and above my regular responsibility. I did not think of it as extra work as it was done out of the passion I have for broadcasting. It required plenty of research, including visiting many people who were never seen on screen but enabled me to arm myself with much information in order to make enriching programmes which were factual and informed."
"One of the main objectives was to get people better acquainted with the public sector. The first series was based just on the one-on-one format. Later we moved on to a multi-guest format allowing several invitees expressing views and debating on a specific topic. The production was aimed at providing a wider picture of the situation to enable the population to understand the pros and cons of an issue and to illustrate the various facets that the authority faced when deciding on policies."
In the lead-up to the launching of the 2008 macro-economic reform programme it was the economy that generated the most attention. As the programmes rolled on, it soon became an open secret that rupee devaluation was being envisaged among the options for currency convertibility and redressing the economy.
"Basically, Face à Face slots helped the population to understand our financial predicament then, and prepared them for the reform. I received many compliments from politicians of all persuasions and of course the general public."
Soon after, Jacqueline was suddenly transferred to the National Arts Council as the chief executive. She does not hide her dismay at being appointed in that post. It was not a field she was interested in, and above all, was not producing anything tangible, and therefore she did not derive any job satisfaction. She resigned from her position and dabbled in a bit of consultancy and PR and communications work for about a year before being invited back into government. With the government restructuring in March, Jacqueline was appointed Mayor of Victoria.

So what are her plans? She said there are various projects still at discussion stage. She would not want to announce them unless she is certain that they will materialise. But it is obvious that she would not like to see commerce in Victoria dead after 4pm on weekdays and noon on Saturdays. She believes that if some businesses, such as "Fresh Cuts", "Victoria Cold Storage" and STC supermarket and many Indian retail shops can open on Saturdays and even Sundays, often packed with shoppers, many others -- including the hardware as well as clothing stores -- can do likewise.
"After all, most DIY is done during the weekends, and ladies need a lot of time to choose what they would like to wear before buying!"
Jacqueline and Eddy, who presently heads the newly set up oil exploration company Petro Seychelles, reside at La Misère and have three children. The eldest, Bertrand, a chemical engineer, works in the Vice-President's office, where among many other assignments, was recently involved in the setting up of the fibre optic cable station in Mahé. Their only daughter, Kalsey, is studying engineering and finance at University College of London. The youngest, Pierre-André, is in S4 at the Independent School.
By John Lablache