Civil society, government for closer ties
13-June-2012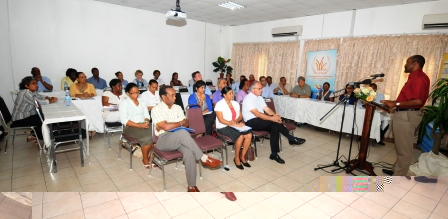 The plan will have the civil society engage with the executive, judiciary and parliament at both community and international level.
The said workshop took place on Monday at the conference room of the Liaison Unit for Non-governmental Organisations of Seychelles (Lungos) in the presence of the Minister for Social Affairs, Community Development and Sports Vincent Meriton, principal secretary for social development Linda William-Melanie and French ambassador to Seychelles Phillipe Delacroix, who is also the United Nations representative.
The project is funded by the United Nations Development Programme and supports the efforts of state and non-state actors to continue improving the governance capacity in Seychelles.
In 2008, a memorandum of understanding (MoU) was signed between Lungos and the government to establish a formal partnership. Yesterday's session was also to evaluate the work done and progress made since the signing, review the contents of the MoU and plan the road ahead.
Minister Meriton, who is also the focal point for non-government (NGO) affairs, officially launched the workshop, saying the signing of the MoU marked the beginning of a development of a framework to ensure that Lungos contributes more strategically in the national development process.
"Much has been achieved since. Of particular importance is the building of competencies and capacities of Lungos and its members," he said.
"In this new environment, to enable civil society to deliver effectively, strong governance must always find innovative ways to strengthen the partnership with its representatives, an approach which we are committed to."
The minister also remarked that an important milestone is Lungos taking part in the forming of a national plan of action for social renaissance.
"This again is testimony of the role that civil society can and should play in bringing about a positive transformation in our society, and we should build on the good relationship which already exists," he said.
There were various presentations, such as the government policy towards civil society, what has been done so far and where the government is heading, presented by special advisor Marie-Josée Bonne.
The project and international trends towards public civil society engagement, the concept of engagement, benefits, risks and best practices were also presented by the consultant for the project Giovana Neves.
And with various working sessions, one of the final outcomes of the projects will be the establishment of a monitoring and evaluation framework.