Laboratory Week-Celebrating lab experts' key role in health care
13-June-2012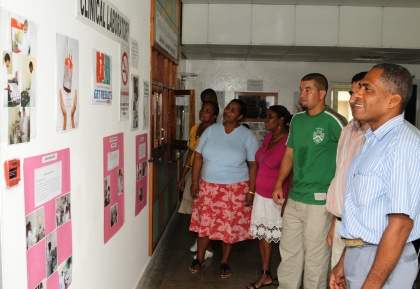 The event, being held for the second consecutive year, is in a way paying tribute to the 'unsung heroes' of health care.
"Since they (the laboratory professionals) often work behind the scenes, few people know about the critical testing they perform every day," a spokesperson for the Ministry of Health said.
"Medical laboratory week is therefore a time to honour those who perform and interpret hundreds of medial lab tests in Seychelles every year."
Some of the activities being held this year (during this week) include an exhibition at the Red Roof building, HIV screening at the Anglican Church, mass at the Good Shepherd Church, and capacity building workshop for the staff.
Speaking to Seychelles Nation, senior lab technician Linette Mussard said the exhibition is open to the public, but targeted primarily the health department staff.
"The exhibition is showcasing the best ways and techniques that staff at clinics and on wards should use to take blood samples and which containers to put them in," she said.
"We are also putting a lot of emphasis on how to use containers when collecting samples, such as the exact quantity of a specimen to put inside."
The HIV screening held yesterday for the public in the grounds of the Anglican Church was also a chance for people to know their HIV status in 15 minutes, and nurses were also at hand to give counselling.
Today will see a mass being held at the Good Shepherd Church at Mont Fleuri, as from 12.15pm and a workshop on best practices in blood collection will be held tomorrow.
Job Nyamache from Nairobi, who will lead the seminar, is from the company which supplies the Ministry of Health with the lab containers used for collecting samples and will advise on how best to use them, among other things.
For those who will not be able to attend the training, the ministry will have information leaflets and other educative materials sent to their respective clinics or departments.
Ms Mussard said that next year they will aim to have other labs taking part in the event, such as school science labs, Seychelles Bureau of Standards and public health labs.