Renewed drive seeks to cut disaster risks
15-June-2012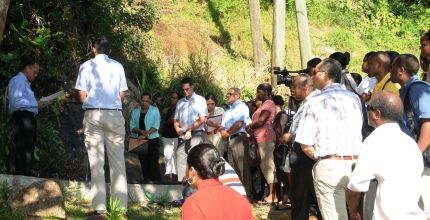 They first gathered at the Forêt Noire site of the January 17, 2011 major landslide where Environment and Energy Minister, Professor Rolph Payet, launched their workshop.
They later convened at the Seychelles Trading Centre conference room for the workshop proper.
The delegates included Land Use and Housing Minister Christian Lionnet, member of the National Assembly for Mont Fleuri Beguitta Jeannevole, senior government and United Nations Development Programme officials, district administrators, technicians involved in planning, the environment or disaster prevention and University of Seychelles students, among other people.
The director general for policy planning and risk management Alain Decomarmond explained how destructive the 2011 landslide was, and the work that has been done to prevent a recurrence.
An exhibition at the site showed the work which has included improving draining, repairing a road and building retaining wall.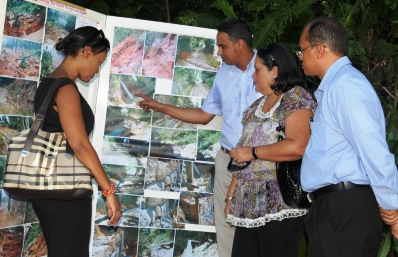 Thanking Prof. Payet for coming up with the idea of having the opening ceremony at the site of the disaster, he said choice of the venue allowed the delegates to realise first hand what happens in such landslides and measures normally taken to reduce further danger.
Prof. Payet said members of the public should understand measures and advice given for example by the planning authority are aimed at preventing disasters and loss of property and lives.
The stakeholders at the workshop got a chance to learn the criteria the authority uses to vet plans.
Urging the delegates to make significant contributions, Prof. Payet said the workshop was funded by the Global Environment Fund in collaboration with his ministry.
He said the Forêt Noire landslide was triggered by strong wind and heavy rain that fell within a short period of time causing heavy runoffs which led to ground movement, rock falls, deep failure of slopes, and flow of debris.
"To reduce the risk in this particular area, the government of Seychelles through the Department of Risk and Disaster Management embarked on a major restoration project -- at the cost of R550,000 -- which included the construction of a stone masonry retaining wall, road repairs and drainage to cater for better flow of water downhill," he said.
Although the physical cause of many landslides cannot be prevented, proper geological investigations, good engineering practices, and effective enforcement of land-use management regulations can reduce landslide hazards, he said.
"Globally, landslides cause hundreds of billions of dollars in damages and hundreds of thousands of deaths and injuries each year. So in Seychelles we are rather fortunate, but we still need to exercise care and professionalism when developing on our hillsides," he said.