Miss Seychelles ... Another World 2012 visits city of Prague
16-June-2012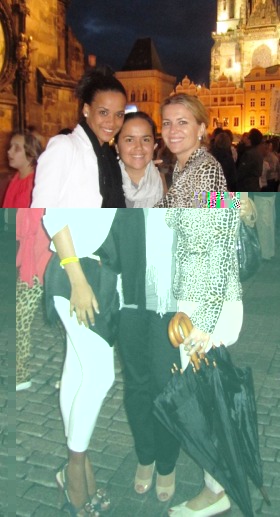 The trip, part of her prize package, was sponsored by Bling Bling, a Czech Republic-based company. Ms Furneau was in Prague for three days, from June 9 to 12.
She was hosted by the deputy honorary consul for Seychelles in the Czech Republic, Jana Stefankova and husband, René. Also on the trip was Peter Smith, the director of sales and marketing of Eden Island Seychelles and his family, as well as Ms Furneau's chaperone for the trip, Isabelle Houareau of the Seychelles Tourism Board.
Despite the rainy weather, the polo tournament was a great success from a PR angle, with the hundred or so guests networking from noon until late afternoon.
The guest list was predominantly made up of high-level members of the Czech press and high level members of the corporate community in the Czech Republic.
Mrs Stefankova explained that to be seen at an event like this is to know that you are someone of influence in your field, which meant a prime occasion to market Seychelles to those seeking exclusivity as well as paradise.
Ms Furneau had the chance to speak with representatives of the tournament's main sponsors, with Fashion TV and various other guests at the event. Mentions of the presence of "Miss Seychelles" were not uncommon as one walked through the crowds as they saw Ms Furneau in her crown and sash. It was evident that this was a most common conversation piece and many asked to have their picture taken with her.
Following the polo tournament, Ms Furneau was given the opportunity to enhance her modelling portfolio by doing a photo shoot with the highly esteemed Czech photographer, Jakuba Ludvik.

Known to be slightly eccentric, Mr Ludvik had Sherlyn posing on the rooftop of the Town Hall, an area inaccessible to the general public.
Mrs Stefankova has reverted with most positive feedback from Mr Ludvik, who was excited to discover how photogenic Miss Seychelles is and expressed much eagerness to again meet with Ms Furneau when he next visits Seychelles. His love for the country was evident when he told of his experiences shooting in the islands.
Mr Ludvik looks forward to seeing Seychelles among the line-up of countries represented at the Miss World Contest on August 18 in Ordos, China.
The consulate for Seychelles and the company run by Mrs Stefankova, Bling Bling, shall be following up on the event with magazine coverage in September, yet another chance for the world to be reminded about Seychelles' natural beauty and identity.
All in all, the experience was fruitful both for Seychelles and for Ms Furneau, who was at the forefront of the cultural exchange between Seychelles and the Czech Republic for this overseas mission in her role.