Mauritian premier first VIP to plant in Seychelles arboretum
19-June-2012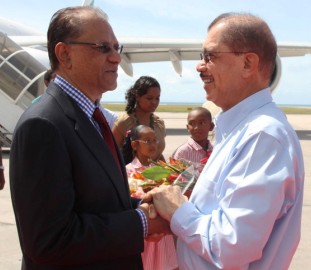 Seychelles President James Michel had planted a first coco de mer, a few metres away, 10 days ago after he officially opened the park.
Dr Ramgoolam becomes the first VIP to plant a sapling at the arboretum, where it will be nurtured and allowed to grow, in commemoration of his visit.
He was accompanied by the ministers for Environment and Energy and Natural Resources and Industry -- Rolph Payet and Peter Sinon respectively.
Also present were Ambassador Maurice Loustau-Lalanne, who is also chairman of the National Botanical Garden Foundation and its chief executive, Raymond Brioche.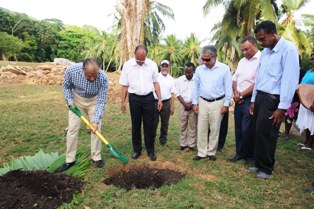 Mr Loustau-Lalanne, former environment official Georges Troian and President Michel had been instrumental in setting up the biodiversity centre, over 10 years ago.
A long time worker of the centre, Lorna Rose, also assisted Dr Ramgoolam in the planting. He was told there is no need to water the plant now, since the humus was fairly moist.
Prime Minister Ramgoolam, who is here on a State visit and as guest of honour of the National Day celebrations, arrived early Sunday afternoon on Emirates Airlines and was welcomed at the airport by President Michel and members of the cabinet, the Speaker of the National Assembly, President of the Court of Appeal, and other officials.
With President Michel, he inspected a guard of honour mounted by the SPDF .
Dr Ramgoolam also greeted some members of the Mauritian community in Seychelles who had assembled at the airport to welcome him, while parties of school children from Au Cap, Anse Aux Pins, Pointe Larue and Cascade schools had also gathered, waving Seychelles and Mauritius flags.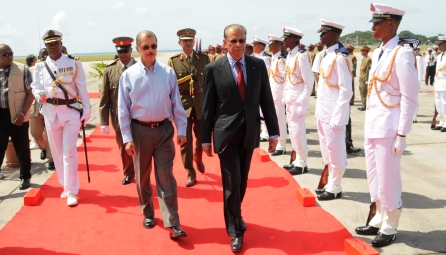 Dr Ramgoolam was then driven to the Kempinski Resort, where he is residing during the four-day state visit.
Dozens of banners and posters, with photographs of both leaders and hailing "Seychelles-Mauritius friendship" have been strung at various points in Victoria, on the road leading to the airport and to the Kempinski Resort.
In a statement issued after he had welcomed Prime Minister Ramgoolam at the airport, President Michel said:
"It is a great honour to welcome Prime Minister, Dr. Navinchandra Ramgoolam to Seychelles for his first state visit, and our guest of honour for the National Day celebrations.
Mauritius and Seychelles have recently increased bilateral cooperation in the fight against piracy, the joint management of the extended continental shelf in the Mascarene Plateau Region, as well as Indian Ocean Commission cooperation. We welcome the Prime Minister today and hope to extend the depth of our relations of our already promising partnership."
For his part, the Minister for Foreign Affairs Jean-Paul Adam said:
"The people of Seychelles and Mauritius have always shared a close relationship due, not only to our close proximity, but also to the many parallels in our culture and history, as well as our ambitions and challenges as Small Island Developing States, which is why this historic visit is an occasion to celebrate."