Mancham to take part in 'high-level dialogue for a globalised world'
21-June-2012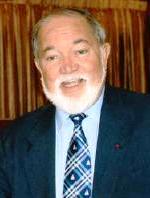 The focus of the dialogue will be a round-table conference luncheon where David O' Sullivan, chief operating officer of the European External Action Service (EEAS), will speak on the theme "The New EU Diplomacy: Objectives, Achievements, and Added Value."
The EEAS supports the High Representative/Vice-President of the Commission, Cathy Ashton, in fulfilling her mandate to ensure the consistency of the Union's external action.
The EEAS also assists the President of the European Council and the President of the European Commission in the area of external relations.
Mr O'Sullivan was director general for Trade from 2005 to 2010. Previously he was secretary general of the European Commission from June 2000 to November 2005, head of Cabinet of Commission President Romano Prodi and director general for Education and Training.
He also has extensive experience in EU social and employment policy.
Mr O'Sullivan has a background in economics, graduating from Trinity College, Dublin and having completed post graduate studies at the College of Europe, Bruges.
He holds an Honorary Doctorate from the Dublin Institute of Technology.
He is also a member of the Consultative Board of the Institute for International Integration Studies at Trinity College, Dublin.
In a statement issued from his Glacis-sur-Mer office yesterday morning, Mr Mancham said: "Europe is now going through a significant economic crisis. What happens in Europe will directly impact Seychelles tourism. I am privileged to have been invited to participate in this high-level rendez-vous."