'No pity for drug offenders'
21-June-2012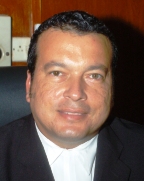 Other convicts – except those serving life terms – enjoy a 33% remission on their jail terms on the grounds of industry and good conduct while in prison.
Mr Govinden was briefing Nation about measures being taken to ensure harsher sentences for people convicted for drug offences in line with what President James Michel said about the issue in his National Day address on Monday.
"I have called for more severe actions against drug traffickers. Following cabinet instructions, the Attorney General's Office has drafted two Bills: one against child abuse, and the other against the production and trafficking of drugs. Both are proposing stiffer sentences, including life imprisonment in certain cases, for these crimes," Mr Michel said.
At the moment manufacture and importation of controlled drugs attracts a 10-year sentence with a maximum of 30, although for cannabis weighing less than 15 grammes the minimum sentence is only three years and five years for repeat offenders.
Higher amounts of the same substance attract sentences as stiff as for other controlled drugs.
"Because of the prevalence of the offences, we have got strong recommendation from the government to change the minimum, and consider life imprisonment," Mr Govinden said.
He said offenders continue to be arrested and for drugs cases, conviction rate is above 80%, but for child abuse the reporting is often low and quite late "for example only when a girl becomes pregnant".
He said many cases of child abuse happen within families, who are sometimes reluctant to report offenders.
The law needs to provide for severe punishment to deter offenders, he said.
Mr Michel said very soon the National Assembly will hold debates on these critical issues and the country will hopefully have new laws that will strengthen the legal and moral standards in our society.
Mr Govinden said his office is proposing tougher laws than those provided by the 2008 amendment of the Penal Code to safeguard children from abuse because "the prevalence of the offences has shown the laws are not a good enough deterrent".
He said at the moment the law provides for a minimum of seven years jail and maximum of 14 years for those aged above 18, who abuse children below 12 for first offenders with those repeating the same offences within 10 years getting at least 14 years and a maximum of 20, but the drafts Mr Michel talked about provides for longer terms.
Mr Govinden said he could not at this stage give figures because Cabinet could make changes.