Golf: Club Championship 2012-Jean-Baptiste finally grabs Seychelles Open title
22-June-2012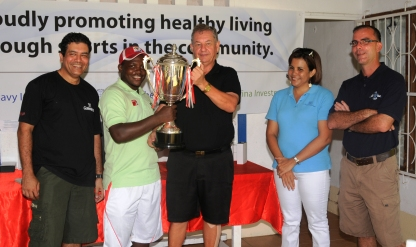 The event – also known as the Seychelles Open – is jointly sponsored by H. Savy Insurance, Mahe Shipping and Corvina Investment.
It started on Saturday with 18 holes played on the Medal format and continued on Sunday and Monday – both 18-hole rounds.
The players competed in three categories – gold, silver and bronze – based on their individual handicaps.
Jean-Baptiste won this year's Club Champion title with a final total score of 209 gross, ahead of runner-up Patrick Balette who finished with 218 gross.
Speaking to Sports Nation, a very delighted Jean-Baptiste said the tournament was not that difficult as he was well prepared.
He said he has been training intensively since the beginning of the year and even came up with better scores in training than those he achieved in the competition.
He added that after a short rest, his next target will be the Mauritius Open qualification tournament which will be held on Praslin.
Françoise Jouvet was the women's champion with a final total score of 303 gross.
Pascal Esparon was the winner of the overall net with 201, which also earned him first position in the gold division which was played on a zero to nine handicaps.
Balette finished second with 203 net, ahead of Damien Hoareau who finished third, also with 203 net.
In the silver division played on a handicap of nine to 18, Darryl Anthony was the grand winner with a score of 209 net, finishing ahead of second-placed Patrick Flore with 210 net.
David Deltel was third with 210 net.
With a score of 207 net, Shoaib Jamie was the winner of the bronze division played on a handicap of 19 and higher.
Françoise Jouvet was the division's runner-up with a score of 213 net, ahead of Joe Elisa who finished third with 217 net.
There was also a host of individual prizes. Peter Vandervalk won the best player for Saturday award with 67 net, while the Sunday award went to Jemmy Esther with 65 net.
Richard D'Offay won the best player award for Monday with 66 net, while the prize for the nearest to the pin on the 14th hole went to Godfrey Andrade.
Patrick Asba won the prize for longest drive on the 18th hole.
The winners received their prizes from H. Savy Insurance's sales and marketing manager Murline Lebon, captain Guy Adam of Corvina Investment, and Mahe Shipping Agency's manager Joe Morin in the presence of club captain Dr Zia Rizvi.
Dr Rizvi thanked all those who took part in the tournament played in very difficult weather conditions and also thanked all the sponsors for their continuous support.