Govt pledges to fight crime harder
22-June-2012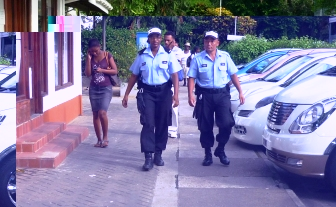 The police will crack down harder on criminals while refraining from abusing their power, and the courts have been urged to avoid releasing criminals on bail thus giving them a chance to commit more offences while free in the community.
The Penal Code will soon be amended to make it mandatory for courts to detain suspects rather than leaving it to judges and magistrates who have in some cases released criminals even after they have been arrested two or three times while their cases are pending.
The Minister for Home Affairs and Transport Joel Morgan and Tourism and Culture Minister Alain St Ange said this in an interview yesterday, noting that tough action needs to be taken to arrest those who are harassing members of the public in their homes and streets by robbing them of their property, sometimes forcefully.
Mr St Ange said we should all work together to ensure such acts do not affect tourists because if the situation gets worse and any countries give their citizens travel advisory urging them not to come to Seychelles we would all suffer economically since most of our earnings come from tourism.
"Nations are very sensitive about their passports and a few tourists have lost theirs through theft. If a country discovers it has several of its passports stolen here, then it could advise its citizens to avoid Seychelles.
"Such action could badly affect businesses that depend on tourism and eventually our economy would suffer," he said.
He regretted that when a tourist is robbed, he or she would not talk positively of Seychelles and may influence other people, discouraging them from coming here.
"Besides, sometimes we have to spend the earnings from tourism to pay for the tickets of such visitors for them to come and give evidence in court," he said.
Mr Morgan agreed there has been what looked like conspiracy or inefficiency among some police officers, but said "their services have been terminated".
He said since the recent creation of a National Crime Services Division, such weaknesses are now being overcome, adding there are 41 Gurkhas in the force working alongside Seychellois officers and 21 Seychellois cadets are about to qualify and join the force.
"We are also expecting senior police officers from the UK to come and train our officers on modern techniques," he said, adding Seychelles and Mauritius are working to bring some senior level officers from that country to boost our capacity.
Mr Morgan said bringing in foreign police officers does not mean the police have failed, noting there are 500 people detained or jailed at Montagne Posee prison – meaning the police have been trying their best – but the "load is quite big and Seychelles is a small country with limited human resources yet a lot to be done in all sectors".
Mr Morgan said President James Michel recently met with chief justice Fredrick Egonda-Ntende, Attorney General Rony Govinden, police commissioner Ernest Quatre and other people concerned with law enforcement and one of the issues they discussed is how the level of crime can be cut.
Talking to Nation on Wednesday, Mr Govinden said he was happy the courts now better understand the need not to release especially suspected drug traffickers and manufacturers on bail "although we have to argue our case for them to be held".
He also said his chambers are working on laws that will hopefully raise the jail terms for example of people aged above 18, who abuse children below 15 years – not 12 years as we reported through a typing error in our article entitled No pity for drug offenders, which appeared yesterday.
Mr Morgan said efforts are being made to identify a venue to hold juvenile offenders so they do not mix with hardened criminals at Montagne Posee and possibly learn how to do criminal activities from the older offenders.