Vice-President Danny Faure addresses Rio+20 Summit
25-June-2012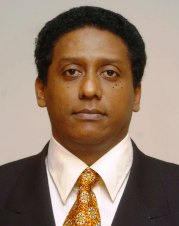 Addressing the heads of State and of governments at the United Nations Earth Summit, he also reiterated Seychelles' full support of the movement towards a blue economy "for the simple reason that our livelihood and those of other coastal communities depend heavily on the state of the marine environment and the natural resources it harbours".
He cautioned though that countries should be at liberty to choose the model of the blue/green economy that best fits their specificity and the pace of implementation.
The choices must however be based on scientifically sound information and must lead to incremental changes.
These changes must in turn be supported by a fairer and more equitable trade system that allows communities to rip the benefits derived from their natural resources.
The vice-president who is representing President James Michel at the summit also assured delegates of Seychelles' full support for the upgrading of United Nations Environment Programme (Unep) into a specialised agency based in Nairobi, Kenya.
On the issue of piracy which is a major concern for Seychelles and is affecting coastal communities in the Indian Ocean, Vice-President Faure appealed to the international community, for continued support. He asked that all measures available be used to ensure the safe use of the Indian Ocean and the safe passage of ships in the region.
Vice-President Faure also reiterated President Michel's call for favourable measures and conditions for small island developing states (Sids). He noted that it will be extremely difficult for these small developing states to make real progress towards the eradication of poverty and the adoption of a low carbon economy without the support of the international community.
On climate change and natural disasters which are the greatest threats to sustainable development of the islands, VP Faure informed the summit that while waiting for commitments to be made within the United Nations Framework Convention on Climate Change the Seychelles along with other Indian Ocean island states, the Indian Ocean Commission and the Global Island Partnership are busy putting in place a programme for the western Indian Ocean region.
"This will provide clear political leadership and open the way for major investment to tackle the negative impact of climate change and other associated coastal challenges that affect islanders and coastal communities of the Indian Ocean," he explained.
It is to be noted that Sids negotiators are satisfied with the final outcome of the Rio +20 summit.
The vice-president was heading the Seychelles delegation to Rio, who also comprised the Minister for Environment and Energy, Professor Rolph Payet, the special advisor to Minister Payet, Didier Dogley and the Seychelles ambassador to the United Nations, Ronny Jumeau.
The Seychelles holding the current presidency of the Indian Ocean Commission was also hosting the Indian Ocean Commission delegation led by its outgoing secretary general, Calixte D'Offay.
The Rio +20 summit ended Friday with the adoption of the summit resolutions which was reached through consensus.