Mancham awarded SPG Lifetime Platinum
26-June-2012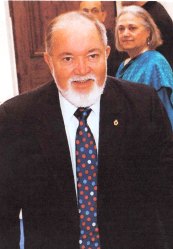 According to a communiqué from the management of the Starwood Hotels Worldwide Inc. in Cork, Ireland, their record shows that over the last 10 years, Mr Mancham has spent over 600 nights in a Starwood establishment - as a Starwood Preferred Guest.
It is to be noted that the Starwood Group includes Le Meridien, Four Points, Westin, The Luxury Collection, W Hotels, Sheraton and St. Regis.
The Starwood Preferred Guest's formula offers to its clients membership status, according to the quantum of days spent in one of their establishments - starting from Ordinary Membership Level to Silver Level, Gold Level and Platinum Level.
Clients have to maintain a certain level of stays every year to justify retaining the category they have achieved.
With the LifeTime Platinum which Mr Mancham has been awarded - it means that he will be a Platinum Member for Life irrespective of stay qualification.
A Platinum member has an accredited ambassador within the system to look after his travelling requirements, he is entitled to an upgrade if occupancy permits and enjoys other pertinent benefits.