Up Close … with Sherlyn Furneau, Miss Seychelles … Another World 2012-'One of my greatest dreams is to see young people flourish'
26-June-2012
If I had one word to describe her, it would be 'elegant'. I wanted to know what sort of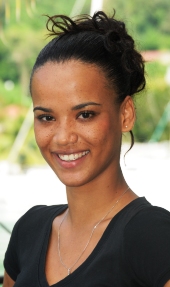 person would be representing us in the next Miss World and how dedicated she was to the job. As I found out soon enough, Seychelles has chosen one extremely classy lady with an amazing amount of confidence and charm.
The interview took off almost instantly. Sherlyn sure loves to talk.

"I used to model between the ages of 16 and 18," she began. "And was lucky enough to secure some photo shoot contracts at that age so you could say I have a little background in the area but I believe much more in inner beauty than anything else."
On inspiration and the Miss Seychelles pageant
"My mother inspires me. She's a single mum and has always been a very independent lady. I've seen her overcome struggles of her own and she's always managed to pick herself back up again.
"You could say that is what has kept me going everyday – I see mum getting up and doing what she has to do without complaining. There are five of us and she always tries hard to keep the family close together," she said smiling fondly.
Sherlyn said joining the Miss Seychelles pageant has always been a childhood dream.
"I guess a lot of little girls want to take part in a pageant at some point in their lives.
I was also inspired by friends and family to join and I'm proud to say this is my first pageant."
"From day one with applications and signing up, my heart was flying out of control," said Sherlyn, her face re-living those moments.
"When the final 12 was to be announced I was so nervous yet extremely excited. Most of us already knew each other and I think we made a great team. All the girls bonded really nicely and we still meet each other every now and then. I'm hoping we remain good friends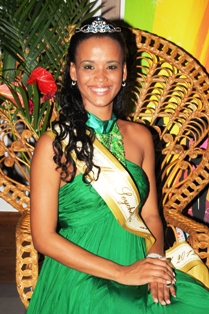 for a while to come.
"We also learned a lot of things during the grooming period and I believe many of us will take those experiences with us on our walk through life. I for one have learned better etiquette and how to properly handle myself in public.
Advice to a younger generation
Sherlyn says she is extremely pro-youth and that one of her greatest dreams is to see young people flourish.
"I think our young have an enormous amount of potential and I would love to see them move forward with whatever they want to do in life but also to focus on their studies," she said.

"I believe studies are very important and should come first before chasing a dream."
She looked thoughtful for a minute.
"I suppose they're also a base for your dreams aren't they? A lot of the youth today are having problems completing their studies and chasing their dreams and I know part of that is due to peer pressure, so I would ask these young girls and boys to persevere and approach older, more mature people for advice.
"Basically stay focused and don't let anything negative in life drag you down," she concluded.
Stylista
"My day to day wardrobe is extremely simple. I enjoy wearing jeans or shorts with regular tops and when need to go to the office I simply stick to skirts and dresses.
"The evening however would have to be a different story," she said grinning broadly. "I go for chic and classy – leaning towards a more elegant look and I think what stands out the most at this point for me is accessories.
"Shoes and bags are a must," she laughed. "Of course so are ear rings and necklaces – anything to brighten up the outfit."
Spare time
"I enjoy spending a great deal of time with my family and friends. I also enjoy hiking and listening to music. Especially Reggae music. Bob Marley is of course one of my all time favourite artists," she said.
Sibling rivalry
Sherlyn cocked her head to one side. "Uh uh, it happens. We argue sometimes but I think it's probably because of the age gap. I have a brother – now in France – who I used to be really close to. "In fact in all honesty I'm a lot closer to my cousin. She's like a sister to me and I suppose we bond over being girls," she said giggling. "I do after all have four brothers."
Outreach
"If I could do anything for my community it would be to help those in my age range. I think maybe a centre where all their talents could come together in productive ways. Anything to keep them out of negative influences out there nowadays. Especially the girls – I see a lot of young ladies being pressured into hanging out later and later on the streets instead of going home after school and I think this should be addressed.
Miss World
Sherlyn suddenly sat up straight, her eyes brightening.
"Oh yeh, Miss World," she said, as though feeling out the words. She mulled it over for a bit before saying, "I'm really excited and really nervous at the same time."
"What I love most about the pageant is the Beauty with a purpose motto and I believe in and back it 110%. In fact I've already started working seriously on my local projects for the theme," said Sherlyn smiling.
"I'll be working closely with the Seychelles Children's Foundation, School for the Exceptional Child, School for the Deaf and other charities as well as getting involved with children who have autism. So it should be hard work but I know the kids will receive a lot out of it too. We should begin a photo shoot with them really soon."
Euro tripping
Since her crowning at the Miss Seychelles … Another World pageant, Sherlyn has been and will continue to be busy travelling.
"Mmmmm, the trip to Prague was amazing," she said clasping her hands together as though in prayer. "I ate so much!"
"We were there for the BMW Polo tournament and I got to hand over a prize to our Eden Island team. It really was a proud moment.
"I was also lucky enough to take part in a professional photo shoot and will soon be receiving my first professional portfolio which is really exciting. I'll also be leaving for Italy soon to do my wardrobe," she said flashing a broad smile.
"Italian designer Michele Miglionico will be sponsoring all my dresses and accessories."
Responsibilities as an ambassador
"They're vast!" said Sherlyn, switching back to a more serious demeanour. "I'll be working closely with the Seychelles Tourism Board in promoting Seychelles as well as with several local charities and the youth in general which I am very much devoted too.
"I receive a lot of encouragement, grooming and guidance from the STB, especially Marymond who is like a second mother to me and I am eternally grateful for that."
Sherlyn said after the Miss World Pageant and her ambassadorial duties, she would like to go back to school and study business management, human resources and environmental issues but said she has not really thought about any specific careers yet.
Sherlyn lives with her mother and three of her brothers at Le Niole.

By Rebecca Belle