Partners discuss economic growth and private sector
27-June-2012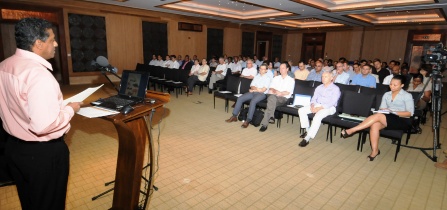 Those present at the Ephelia Resort meeting included representatives of international funding agencies and donor organisations.
Among the presentations given was one by the IMF which offered macro-economic lessons with regard to growth in tourism-dependent economies.
The delegates also talked about barriers to growth and Seychelles' business climate as well as hurdles caused by lack of, or inadequate financing or infrastructure.
When launching the meeting, Vice-President Danny Faure noted a few years ago we introduced new economic and financial policies that underpinned the macro-economic reform programme of 2008.
"As a result we achieved macro-economic stabilisation. We then took the necessary steps to roll-out a series of reforms which have been termed as the second generation of reforms," he said.
"These reforms are both structural and complex in nature. They remain very important reforms which are necessary if the country and the economy are to maintain the gains of the first generation of reforms introduced in 2008."
Mr Faure said the reforms are aimed at unleashing the potential of the private sector, bringing down barriers affecting businesses, increasing efficiency of public enterprises, increasing investment in infrastructural development, establishing new institutions and creating a regulatory framework based on sound policies and international best practice.
"In our country's quest for continued inclusive growth, government will remain as regulator and facilitator.
"Government will continue its efforts to create favourable conditions for doing business, comfortable in the knowledge that the private sector is the engine for growth. Sustainable growth will depend on the jobs and wealth created by the private sector," he said.
"We are looking at areas such as macro-economic stability, security, market access for exports – be it for goods or services – infrastructure development, and working on the overall strategy to ensure that we exploit areas where we are well endowed."
He said Seychelles has three main resources that we can consider important assets: the beauty of our islands; our vast exclusive economic zone; an educated, healthy population.
"As government, we need to ensure our policies make it possible for these three resources to be sustainably tapped and developed to their full potential," he told the delegates, reminding them they were gathered to ensure we improve the basics to allow private sector to grow and flourish.