Seychellois technicians join Etihad's maintenance team
28-June-2012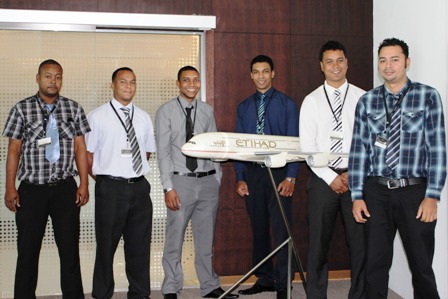 Three other technicians will also arrive in late July to pursue careers with the Abu Dhabi-based airline.
In their new roles, the qualified technicians will spend two years in on-the-job training, followed by eight weeks in an aircraft-specific training course.
Once completed, the technicians will be certified as aircraft engineers, responsible for the maintenance of Etihad Airways' fleet of Boeing and Airbus aircraft.
Captain Richard Hill, chief operations Officer, said: "With our current fleet of 66 Airbus and Boeing aircraft, and another 100 aircraft on order, these Seychellois – already qualified technicians in their own right – will have a wealth of opportunities to gain valuable experience and further develop their careers.
We are thrilled to welcome them to the Etihad Airways family."
The photograph shows the Seychellois technicians posing at Etihad Airways headquarters in Abu Dhabi alongside a model of an Airbus A380, the world's largest passenger aircraft.
Etihad Airways has 10 A380s on order, the first of which will be delivered in 2014.