36th annual Inter-School Athletics Championships-La Digue, SPA retain cups
30-June-2012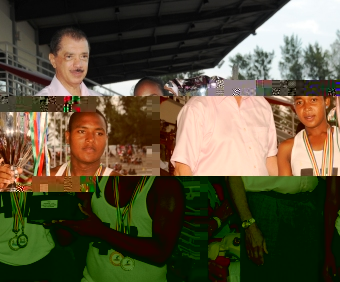 President James Michel, Vice-President Danny Faure, Designated Minister Vincent Meriton, other ministers, members of the National Assembly and of the diplomatic corps, high government officials, parents and schoolchildren attended the event held at Stad Linite and contested by athletes from state and private educational institutions.
As the annual Inter-School Athletics Championships are the major event organised to celebrate the country's Independence Anniversary, Education Minister Macsuzy Mondon said it is right to "give prominence and recognition to the youth, the future generation of Seychelles".
She added that new talents were to be discovered, appreciated and celebrated during the championships which produced 17 records (see page 22). The minister said the new talents should be nurtured and developed as Seychelles needs strong athletes and exemplary sports ambassadors.
Reminiscing about the country's success at last year's 8th Indian Ocean Island Games (IOIG) which were held here from August 5-14, Minister Mondon noted that the government should continue to invest in the development of sports here.
She reminded guests of the new initiatives being implemented by government and called on all partners and sports sympathisers to join and support this noble cause.
La Digue, SPA retain titles
La Digue, who returned as primary winners in 2010 after a very long wait, made it three wins in as many years with 145 points after amassing 14 medals – eight gold, four silver and two bronze.
La Digue physical education (PE) instructor Guilmène Ladouce told Nation he "had doubts about my team's chances of retaining the title, but as the championships grew older and my athletes did well, I knew we would do it".
Grand Anse Praslin (114) and Anse Royale (91) finished second and third overall in the primary category.
After taking over the honours from Maritime Training Centre (MTC) in the post-secondary division last year, the Seychelles Police Academy (SPA) retained the title with 267 points, winning 34 medals – four gold, 22 silver and eight bronze.
Speaking to Nation, boxer Keddy Agnes, who after last year's win said "we will be back next year (2012)", was happy with the win.
"Although we trained just three times a week prior to the championships, we knew we had a chance of retaining the title and we did it," he said.
With 214 points and 18 medals – 15 gold, two silver and one bronze – Business Studies and Accounting finished second, while 2010 winners MTC finished third with 20 medals – two gold, seven silver and 11 bronze. Despite winning the most gold medals in this class, Seychelles Institute of Technology settled for fourth place with 184 points.
After Praslin broke their heart in 2010 by succeeding them as secondary champions, Anse Royale returned to winning ways yesterday with 374 points after collecting 35 medals – 11 gold, 15 silver and nine bronze.
Team manager Gerish Rachel said his athletes' perseverance paid off.
"My athletes trained hard and I'm confident we will win again next year as a good crop of youngsters will be joining the secondary team from primary next year," he told Nation.
Cascade succeeded Grand Anse Praslin as the winners of the President's Fair Play Cup for competitors at primary level with 106 points.
La Digue kept the secondary level cup with 138 points and SPA did as well, retaining the President's Fair Play Cup for competitors in the post-secondary category with 139 points.
President James Michel gave out the Fair Play cups.
The special under-14 best primary cup travelled to Praslin again this year, but this time to Grand Anse primary who succeeded Baie Ste Anne primary with 17 points. Grand Anse primary finished ahead of runners-up Bel Eau (6) and third-placed Pointe Larue primary (5).
After winning the best small primary school title in 2011 – the year it was introduced – Au Cap retained it after again amassing 56 points. Takamaka (28 points) and La Retraite (20) were second and third.
The following are this year's category winners: La Digue (girls' under 8 with 21 points, girls' under 10 with 35 points, girls' under 12 with 43 points), Bel Eau primary (boys' under 8 with 20 points), Au Cap primary (boys' under 10 with 21 points), Anse Royale primary (boys' under 12 with 31 points), Praslin secondary (girls' under 14 with 46 points, boys' under 14 with 51 points), Anse Royale secondary (girls' under 16 with 94 points, boys' under 16 with 86 points, boys' under 18 with 64 points), Plaisance secondary (girls' under 18 with 115 points), Business Studies and Accounting (girls' open category with 173 points) and Seychelles Institute of Technology (boys' open category with 181 points).