Flag-raising ceremony marks Independence Day
30-June-2012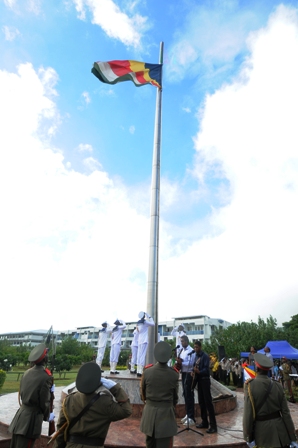 The flag-hoisting ceremony
Present at the ceremony were President James Michel, Vice-President Danny Faure, Designated Minister Vincent Meriton, Speaker of the National Assembly Dr Patrick Herminie, Chief Justice Fredrick Egonda Ntende and Court of Appeal President Francis MacGregor.
Other guests included leader of the opposition and leader of government business in the National Assembly, David Pierre and Marie-Antoinette Rose respectively, ministers and principal secretaries as well as members of the National Assembly and that of the diplomatic corps.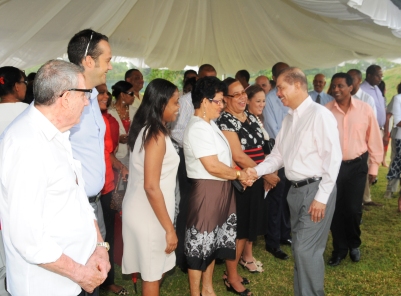 There were also representatives from the Seychelles Scouts, the Young Citizens and the President's Award Programme.
During the event the flag was hoisted by the Seychelles Coast Guard's officers as the national anthem Koste Seselwa was interpreted by Loni Adeline and Jean-Paul Marie.
Then Joe Samy sang a patriotic song entitled Mon Pei Byenneme (My Beloved Country) accompanied by Jany De Letourdie and Belinda Moncherry.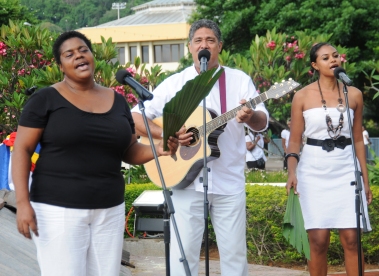 When they took the stage representatives of different religious denominations prayed for the country and its citizens.
They called for more sincerity on behalf of everyone to tackle scourges of our society such as drug trafficking.
There were also prayers to help combat social ills and good wishes for all leaders in the society.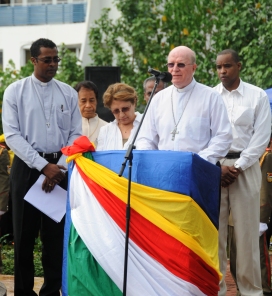 Darren Meme, a La Rosière pupil, then interpreted a patriotic poem composed by Reuben Lespoir.
It was the national theme song 'Travay dir pour nou Sesel' by Telcy, Ion Kid and Curious which wrapped up the ceremony.
Other activities to mark our Independence Day anniversary were a night fair on Thursday and others in several districts as well as the annual Inter-School Athletics Championships which was held yesterday.