Seychelles tourism delegation at Hong Kong's travel expo
30-June-2012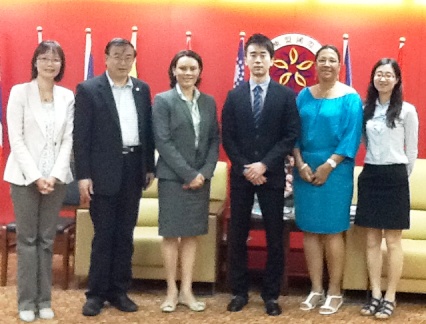 ITE, which is Hong Kong's only travel expo, covers both leisure and MICE/Corporate travel, and highlights trendy themes such as cruise, wellness & medical tourism, and honeymooning.
This year, four companies from the Seychelles trade took part in the ITE at a 21 sq. metre stand. They were Desroches Island, 7 Degrees South, Vision Voyages and Seychelles Connect.
The first day of the fair saw the Seychelles trade representatives meet with potential business partners while the chief executive of the Seychelles Tourism Board, Elsia Grandcourt, gave interviews to local media companies such as the Hong Kong Commercial Daily, Travel Link Dailey and Southern Television (TVS).
There was much interest by other local media companies willing to promote Seychelles on a barter exchange basis, reflecting the mounting interest in Seychelles as an emerging destination for the Asian leisure traveller.
Dr Sydney To from the embassy of the Republic of Seychelles was also present at the stand to help promote the destination and accompanied Mrs Grandcourt to Macau on June 16, to follow up on investment opportunities discussed with Seychelles' Minister for Tourism & Culture, Alain St Ange, earlier this year.
Mrs Grandcourt, who was accompanied by Daniela Payet-Alis, a member of the Seychelles Chamber of Commerce and Industry who was also representing Seychelles Connect at ITE, met Tan Cheung, who is the personal assistant to Mr Kyan, owner of the Zelong Group, President of the Macao ASEAN International Chamber of Commerce (MAICC) and also a potential investor to the Seychelles. Discussion was based around air accessibility to the destination and the announcement of Air Seychelles planned direct flight in January 2013.
Promotional opportunities were discussed whereby Miss Seychelles has been invited to visit Macau later in the year.
On the second day of the fair, Mrs Grandcourt made an address at the Honeymoon and Overseas Wedding (H.O.W) seminar where she explained to an attentive audience what Seychelles has to offer in terms of romantic getaways. She was accompanied by Jean-Luc Lai Lam, marketing executive of the Seychelles Tourism Board in China along with other members of Seychelles trade.
Following the trade fair, the Seychelles delegation, in collaboration with Emirates Airlines, also attended a tourism workshop in Guanzou, China on June 19.
These marketing initiatives form part of Seychelles Tourism Board's strategy to diversify into new markets in response to the recession in Europe and to find new sources of visitors for the islands in the wake of two recent visits by President James Michel to China.