Daniella releases first solo album
30-June-2012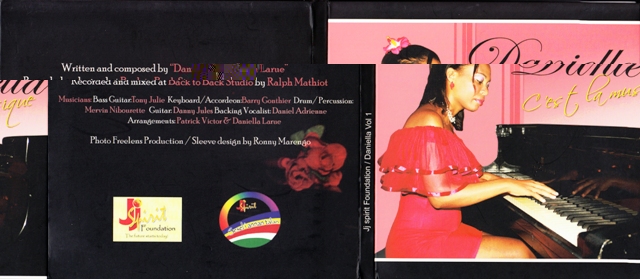 Daniella's soulful voice left the audience in awe at that time. But her talent was recognised and among several prizes she won that night was a recording opportunity which the young artist had been dreaming of.
Almost three years later Daniella has realised her dream of releasing her first solo album.
Comprising 10 songs, the album entitled C'est la Musique hit the stands this week.
The lyrics of all the songs -- which are in all our three languages -- as well as the music are all Daniella's own creations.
Some of the songs she wrote as far back as 1998 while at the National Youth Service (NYS).
"I have always loved music and enjoyed singing," Daniella told me in a short interview just before her album went on sale.
As she neither had the financial support required nor anyone to push her forward, Daniella had not been able to realise her dream until recently.
So far Daniella has released only one song Dir Mwan which featured on an album entitled Leko Baie Lazare produced by a group from that southwest Mahe district.
Daniella, a former student of the School of Music in the late 1990s, has some knowledge of musical instruments like piano and guitar though she admitted that her skills are now rusty from infrequent use. During the time spent at the School of Music Daniella also had voice training and continued to acquire more training in that area from late artist Daniel Adrienne in whose group Souls she used to performed.
Her time with the group, which is no longer active, gave Daniella much needed confidence as they used to perform in hotels.
At present Daniella forms part of another group called Crazz Entertainment.
With this new album Daniella said she now feels a lot more confident and depending on the reaction of the public and her fans, she believes she will not stop there.
"This is only the start and it is soft, cool and romantic music that I enjoy and I know people will love. The selection of songs is intended to help people relax," she said.
The title of the album C'est la Musique is also the title of one of the songs which Daniella admitted is among her favourites.
Like other artists, Daniella's songs explore the theme of love, life, relationships, among others.
Daniella believes music is an industry with lots of potentials here but musicians have to be united and give each other support in order to derive the most benefit from the opportunities it offers.
For the production of this first album Daniella extends her sincere thanks and gratitude to one and all who have supported her all the way – Jj Spirit Foundation, singer Patrick Victor, among others.
Meanwhile Daniella's album is on sale at the usual outlets and also at the Jj Spirit Foundation office at Oceangate House.
M-A.L.