School receives educational and entertainment equipment
04-July-2012
Pupils watch as the donation is handed over to the school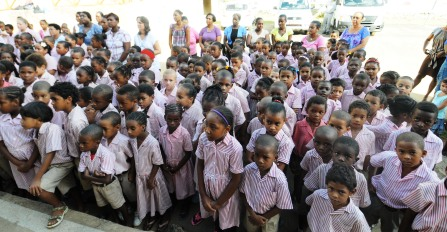 Local company Benelux Shipping (Sey) Co Ltd – part of the international Benelux Freight & Logistics L.L.C -- handed over 135 new dictionaries, a PA system and a camera to the school.
This took place in a short ceremony held recently at the school in the presence of director general for schools Odile Octave, managing director of Benelux Limited Group Mr Brijesh. T. C, Cascade district administrator Fred Barratt, chairperson of the school's council Antoine Onezime, acting head teacher Jane Laurette, the school's PTA members, students, teachers and parents.
In a short vote of thanks, Mr Onezime thanked Mr Brijesh for his "contribution to the education of our children" and cited it as an "excellent example of organisations giving back to the community".
Mr Onezime also asked the children as well as their teachers to make good use of the gifts.
Mrs Laurette thanked the sponsors and added that the PA system would be used during school assemblies and the camera for capturing memorable events and activities at the school.