'Pa Borde', says Jahrimba
07-July-2012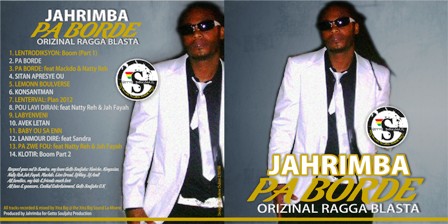 "It is now going on two years since I last came up with an album locally, after signing a contract in Mauritius where I've registered some of my music. I decided it was high time," he says, adding his chosen themes and concepts for the album revolve mostly around love and relationships.
"I've noticed this seems to be 'the thing' at the moment".
Jahrimba says, however, that the songs themselves revolve around different topics under the "love song umbrella" explaining it is the first time he's put so much emphasis on the theme.
"I didn't want it becoming boring," he says, adding that some of his crew members from Getto Souljahz were also part of the album.
"These include Yanicko, Kingsize Natty Reh, Jah Fayah, Mackdo, Lion Dread, Dj4key and DjAnd1 as well as Sandra who features on the song Lanmour Dire on the album".
Jahrimba says he enjoyed working on the album and hopes his fans enjoy it too.
"Before I go I just want to give a shout out to my fans – much love and thank you for the support."
R. B.