Seychelles and Ethiopia sign taxation agreement
20-July-2012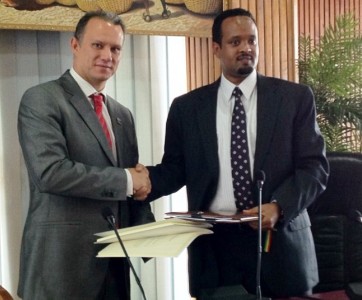 The signing ceremony took place on Saturday July 14, 2012 on the sidelines of the 22nd
Session of the Executive Council of the African Union Commission in Addis Ababa,
Ethiopia.
The agreement was concluded by Seychelles' Minister for Foreign Affairs Jean-Paul Adam
and Ahmed Shide, the Minister for Finance and Trade of the Federal Republic of
Ethiopia.
Mr Shide noted that the signing of the agreement marked a significant step in the
cooperation between the two countries and bodes well for closer trade and business
engagement in the near future.
"This is a very defining moment in the development of our co-operation, as it will open
up the doors by firstly connecting our country to each other and secondly to the global
market.
This in turn will create more opportunities for investment, job creation, wealth
creation, and business opportunities for our local entrepreneurs," said Minister Adam.

He further noted that this new agreement is a new mechanism that will make it easier for
doing business between our two countries, and also doing business in Africa.
The minister also noted that the agreement comes at an opportune time, as Ethiopian
Airlines has started flying to Seychelles since April of this year.

Ethiopia hosts the headquarters of the African Union Commission, in which Seychelles
currently takes part actively.
With an increased focus on partnerships within the continent, south-south cooperation
and regional integration, the Double Taxation Avoidance Agreement further sets the
platform for investors and traders between the two countries to explore the numerous
potentials for growth.
Increased bilateral cooperation between Seychelles and Ethiopia is foreseen for the near
future, as Seychelles plans to open an embassy in Addis Ababa in the course of this
year.