Seychelles is a 'lot more than sand, sea and sun', says the Khaleej Times
21-July-2012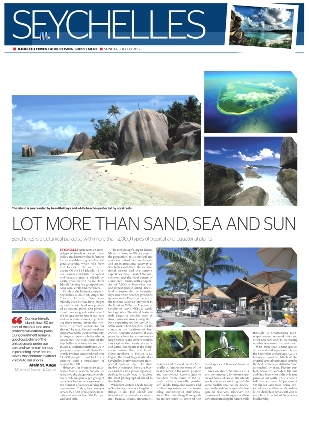 On the tourism sector, the Khaleej Times has gone beyond what Seychelles is best known for -- that is sand, sea and sun. It went exploring another of the islands' USPs (Unique Selling Points), which is Seychelles' natural tourism attraction – "Seychelles botanical paradise''.
"The islands are blessed with an abundance of natural beauty, ocean, mountains, beaches and tropical forests...and back on shore, Seychelles is a pristine sanctuary for diverse species and flora and fauna. The islands are home to an exciting and diverse birdlife that can be discovered in the wild or in specially designed reserves...," writes the Khaleej Times' international correspondents.
With more than 2,000 varieties of tropical and equatorial plants, Seychelles as a glorious haven, takes its role as a living natural history museum very seriously. This is why almost half of its limited land area has been proclaimed as nature reserves and spelled out in the Khaleej Times as "picture perfect, heavenly, secluded... the one and only Seychelles is the only true Paradise on earth".
Besides developing an eco-friendly tropical niche market, Seychelles islands continue to offer a balmy respite not only to visitors of temperate zone, but for those seeking a place to recreate and rejuvenate.
The twin factors of easy access to and from the islands and an expansion in the number of international airlines serving the destination cultivated a tourism market for Seychelles, driven by the impulse to bathe in "its truly exquisite beaches, such as Anse Lazio and Anse Georgette, both appearing on the top 10 list of the world's best beaches", located on Seychelles' second largest island Praslin, also home to the Vallée de Mai – an endemic wildlife sanctuary to one of the archipelago's two Unesco's world heritages.
La Digue, Seychelles third largest island, offers a case study of where tourism development has evolved differently compared to the other islands. One can observe the harmonisation between nature and culture, where visitors are "transported back in time" describes the Khaleej Times.
Seychelles, says the Khaleej Times "represents an archipelago of timeless beauty, tranquility and harmony that is famous for its world-beating beaches and great diversity, which rolls from the lush forests to the warm azure ocean..."
"Such amenities", explained Tourism and Culture Minister Alain St Ange in a transcribed interview given to Khaleej Times correspondent, "are today being protected by a government that remains good custodians for what we have been blessed with, and that remains serious in protecting these natural assets that continue to attract visitors to our shores".