Wushu-Master Zhang happy with progress made
21-July-2012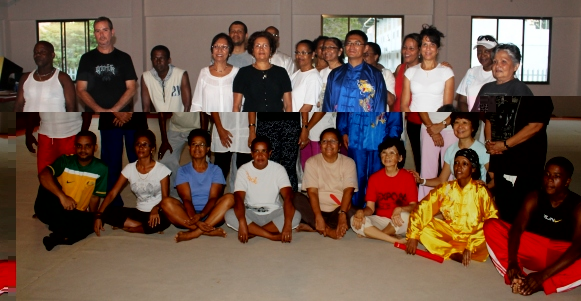 "Master Zhang has congratulated us instructors for a job well done," added Laushi Jocelyn whose partner is Laushi Seddick Fanny.
"His (Master Zhang's) comments are very positive and he is very happy with the progress made by the new members and the way we have been imparting our knowledge here," added Laushi Jocelyn.
Based in Mauritius, Master Zhang was here for two weeks to evaluate the progress the traditional Chinese martial arts had been making since his first visit last year (October 17-21).
Vice-professor and Wushu teacher at the Beijing Institute of Petrochemical Technology, Master Zhang followed sessions ran by Laushi Seddick and Laushi Jocelyn during the two weeks spent here. Beginners and members of the Seychelles Wushu Association (SWA) followed the sessions.
Master Zhang majored in Wushu and graduated from the Beijing Sport University. He has been teaching Wushu and Tai Chi for more than 20 years and once worked in the China Cultural Centre in Benin for three years as a Wushu teacher.
Wushu relates to different dimensions of Chinese culture – traditional Chinese medicine, literature, music, etc.
G. G.