IMF director calls on President Michel
24-July-2012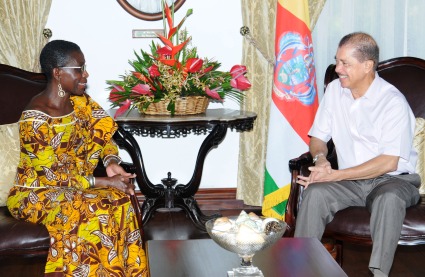 Speaking soon after meeting the two leaders, she said she is honoured to be here to see for herself what has been achieved since the IMF started supporting the economic reforms Seychelles undertook in 2008 and also to have a direct interaction with the authorities.
"I wanted to see for myself what has been achieved and talk about the results of the programme and the next step in making sure that those results are safeguarded," said Ms Sayeh.
She said Seychelles has undertaken very difficult reforms but the world continues to have huge challenges and uncertainties and the discussion with the two Seychellois leaders and the Minister for Finance (see separate story) focused on how to manage those uncertainties to make sure the country continues to demonstrate good results in economic management for its people.
With regard to progress achieved as a result of the economic reforms, Ms Sayeh said it is clear to the average person when thinking and looking back at the circumstances in 2008 compared to now, that there is growth in spite of remaining challenges.
With regard to the rise in volatility in the local foreign exchange market where the Central Bank has had to intervene to bring stability, Ms Sayeh said all central banks have a role to make sure they mitigate such volatility when it is so extreme and not particularly reflective of economic fundamentals.
Ms Sayeh, who is accompanied here by the IMF Chief of Mission Jean Le Dem, noted that during her visit she will have several meetings with the government.
She is expected to leave on Thursday.