'Health policies ensure population's protection'
24-July-2012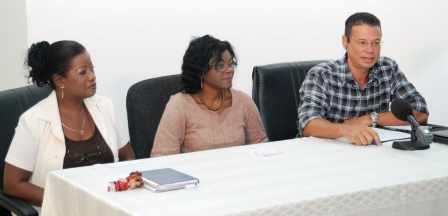 Addressing the Minister for Health Mitcy Larue, principal secretary Veronique Laporte, visiting consultant of the World Health Organisation (WHO) Dr Petus Amos and fellow health officials, Dr Gedeon said health policies are themselves developed based on a vision that the government of a country wants to achieve.

He added that the process involves using available research information and statistics.
Health policies also rely on what is happening elsewhere and targets set by the WHO and other international agencies are taken into consideration in their development.
Dr Gedeon said that this week, health workers will learn how these visions and missions are better transformed into policies.
"At the end of the week, you might come to realise that certain of our policies need to be adjusted or amended to enable us to derive more from them. They are not written in stone and hence have to change from time to time to respond to changing needs of our country and people," he said.
Dr Gedeon also welcomed Dr Amos, from the WHO Regional Office, East Africa. Dr Amos, who is Ugandan, is not new to Seychelles and Dr Gedeon urged him to build on the existing knowledge of the seasoned programme and clinical managers to sharpen their policy development skills.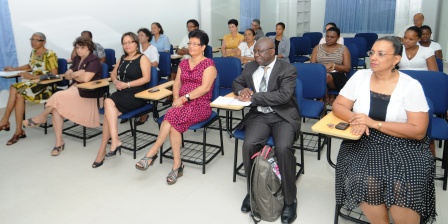 Dr Gedeon urged delegates to be attentive and make the most of this training opportunity by taking part fully and asking many questions.
Earlier, Ms Rosie Bistoquet, head of the communicable disease control unit, said at the heart of the health reform is the goal of improving the health status of the population by getting the best value for money, available resources in the face of increased demand for health services.

"Thus, priorities and rationing, public preference and expectations, affordability and accessibility are all global examples health reform is trying to address.
Ms Bistoquet noted that Seychelles have made remarkable progress into the National Health System since the past 30 years, especially in the areas of primary health care, maternal and child health.
She added that maternal and child mortalities have reduced considerably.

"These achievements have been possible due to strong policy environments, budgetary commitments and good service in ante-natal, birth and post-natal health care and early childhood interventions."
She added that the immunisation coverage for the past years in Seychelles have not been achieved by "magic wands" but through the sheer commitments of programme managers, decision makers, data clerks and all nurses in different health facilities through coordinated approaches.

Ms Bistoquet said it is no exaggeration that Seychelles has already achieved most of the millennium development goals for Africa in 2015. But this does not mean that we have to be complacent, especially with the emergence of new diseases, such as HIV, hepatitis, polio and TB.

This is complicated by the new lifestyle re-orientation among young people, such as heroin dependent mothers.
Dr Cornelia Atsyor, the WHO liaison officer for Seychelles, said changes are always necessary in health care.

She said new vaccines have been introduced recently for several diseases and she is happy that since two years some of them are available locally, such as for hepatitis, diphtheria and tetanus.