Trip Advisor commends local Creole restaurant Marie-Antoinette
28-July-2012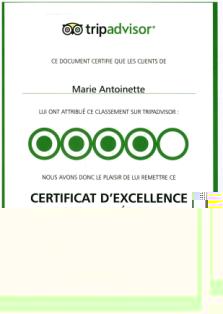 Marie-Antoinette Restaurant has been commended by social media Trip Advisor
The letter signed by Christine Petersen, the president of Trip Advisor for Business, states that based on their judgment Marie-Antoinette Restaurant is classed among the best restaurants.
This accreditation was welcomed by the Fonseka family, the owners of the restaurant, who proudly displayed the 'Certificate of Excellence' they have received.
Seychelles Tourism and Culture Minister Alain St Ange congratulated the owners on this achievement.
"You truly are a Seychellois Creole restaurant!
"You use our local produce and you have demonstrated year on year that you believe in playing your part in the move to showcase that culture and agriculture must walk hand in hand for the continued consolidation of our tourism industry. As we congratulate you, we take this opportunity to wish you continued success," Minister St Ange said in the presence of Seychelles Tourism Board chief executive Elsia Grandcourt.
Trip Advisor is the most popular social media used to guide holidaymakers when making a booking for their next vacation.